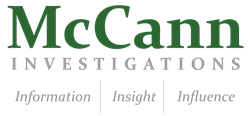 Embezzlement cases, especially when they involve CFOs, require the investigation services of skilled professionals.
Dallas, TX (PRWEB) January 29, 2014
McCann Investigations, a private investigations and digital security firm that operates throughout the state of Texas, announced the expansion of its fraud investigations services with the addition of controller/CFO embezzlement investigations.
This specific subtype of embezzlement cases deals with people in charge of company finances who have been charged with embezzlement. Though all embezzlement cases involve some sort of breach of trust, they become much higher-profile cases when the accused is a higher-up person in a company like a Chief Financial Officer.
"Embezzlement cases, especially when they involve CFOs, require the investigation services of skilled professionals," said Daniel Weiss, Managing Partner at McCann Investigations. "Though there are some complexities involved in these cases, we are confident that our investigators have the training and skills necessary to successfully uncover the needed evidence in these cases. We are pleased to now offer these services to our clients in the Dallas area."
Embezzlement crimes involve a person entrusted with control over company assets dishonestly withholding those assets for his or her own purposes, whether it be their personal gain or the gain of another rival company. Embezzlement cases that deal with CFOs or controllers gain additional media scrutiny, which in turn brings a variety of complications that investigators normally do not have to deal with in their work. The certified fraud examiners at McCann navigate through those difficulties as they find evidence of embezzlement, if it exists.
"Our top priority in every case we take on is to discover the truth, and that is no different with these new embezzlement investigation services," said Weiss. "We use all of the resources available to us to find the evidence in the case that will help the legal process of the case."
For more information about the services provided by McCann Investigations in the Dallas area, visit the company's website at http://www.mccanninvestigations.com and follow the company on Twitter at @mccangi.
About McCann Investigations
McCann Investigations is a Texas-based private investigations practice focused on comprehensive investigations incorporating digital forensics, surveillance, undercover work and background checks for clients in various case types. Service areas include intellectual property theft, non-compete enforcement, fraud, embezzlement and family law. McCann Investigators are experts in the latest computer forensics tools and are licensed with the state of Texas. McCann examiners have provided expert testimony and reporting in hundreds of cases across the state.