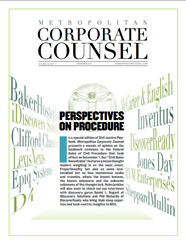 There's a lot riding on the judges.
New York, NY (PRWEB) December 01, 2015
DECEMBER 1, 2015 – Metropolitan Corporate Counsel, a division of Law Business Media, LLC, announced the release today of its Special Report, Perspectives on Procedure: A Civil Rules Roundtable, featuring leading experts opining on the highly anticipated revisions to the Federal Rules of Civil Procedure that took effect today with the blessing of the U.S. Supreme Court.
The changes, which arose from a process spearheaded by leading judges, lawyers and academics, are aimed at rendering the courts more accessible by checking spiraling costs and delays driven by e-discovery in litigation and government investigations, which concerns the exchange of information in electronically stored information. As the volume of digital information has increased exponentially in recent years, so have the costs of storing, organizing, searching and sharing that information. Observers increasingly have raised concerns that meaningful access to the courts was being undermined by the problem.
John Rabiej, director of the Duke Law Center for Judicial Studies, which served as a kind of incubator for the changes to the rules, said the success of the revisions, which bring the concept of "proportionality" – balancing the costs of sharing information with the civil rules' goal of speedy and affordable disposition of federal matters – front and center, will depend on the cooperation of the parties and, especially, the willingness of judges to play a vigorous role in making the rules work.
"We need to come up with a way to get the information that both parties need – not necessarily anything that's relevant, but what they actually need – and get it to them promptly," Rabiej told MCC. "There's a lot riding on the judges."
The MCC report includes contributions from some of the world's leading law firms, including BakerHostetler, Clifford Chance, Jones Day, McCarter & English and SheppardMullin, as well as leading e-discovery experts from companies such as D4, DiscoverReady, iDiscovery, Epiq Systems, Inventus, LexisNexis, and RVM Enterprises.
According to Kristin Calve, publisher of Metropolitan Corporate Counsel, the publication's readers, largely General Counsel and other senior in-house lawyers, corporate board members and executives from the world's leading companies, are keenly focused on the rule changes, as many of them are worn down by the mounting costs and risks associated with e-discovery.
"Our goal is to highlight the changes and what they mean for corporations conducting business in the U.S.," said Ms. Calve. "We are lucky to have attracted contributions from many of the leading minds in the field."
For more information, please contact Kristin Calve at kcalve@metrocorpcounsel.com or 203.722.1188.