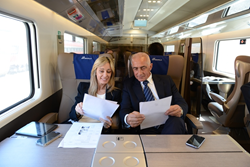 Frecciarossa 1000 tickets can be purchased through Select Italy's train booking interface, alongside Trenitalia's existing travel network.
Chicago, IL (PRWEB) July 28, 2015
Select Italy (http://selectitaly.com), the boutique travel company, provides train tickets and seat reservations on all trains throughout the Italian rail network, offering the most competitive prices and comprehensive selection of train tickets available, including the ones for the new Frecciarossa 1000.
On June 14, 2015, Trenitalia introduced the new Frecciarossa 1000 train that will run on the Turin-Milan-Bologna-Florence-Rome-Naples route. Trenitalia's latest addition boasts a combination of comfort, technology and innovation that will enhance the travel experience of every passenger. The train has a total of 457 seats and four service levels to meet any traveler's needs: Standard, Premium, Business, and Executive. Some of the distinguishing features and services based on the class levels are:
Executive

Ergonomic leather extra-large seats
Single swivel seats, according to direction of travel
5-seat meeting room
Open bar and gourmet meal served at seat, included in price ticket
Business

Ergonomic leather seats
Reclinable seat-back
Silence area
Crystal party walls for privacy
Free Welcome drink served at seat
Premium

Leather seats
Free welcome drink served at seat
Wide space for luggage
Standard

Eco-friendly leather seats
Easy food catering service at seat on a wide number of trains
Moreover, all seats have an electrical outlet, there are baby changing tables in each coach, WiFi on board and new catering services that give every passenger the option to choose a meal in the bistrò coach or at their seat.
"Trenitalia's upgraded levels of service allow it to meet any traveler's specific needs and deliver the best train travel experience," says Justin Anderson, Manager of Operations & Client Services. "Frecciarossa 1000 tickets can be purchased through Select Italy's train booking interface, alongside Trenitalia's existing travel network."
For current train schedules, ticket prices and additional information, visit Selectitaly.com. If customers want to book a ticket not listed on the website, they can send an email with the requested route, date, time and passengers to info(at)selectitaly(dot)com and Select Italy's staff will respond with the requested travel solutions.
About Select Italy
Select Italy® is The Ultimate Source for Travel to Italy® and offers a wide array of superior Italian travel products and services, including customized itineraries, state-of-the-art tours and packages, wedding/honeymoon trips, unique culinary classes, a complete pre-departure ticketing service for museums and musical events, private guided services, yacht charters, transportation, hotel reservations, villa bookings and more. Through a vast network of suppliers and cultural contacts, anything and everything you need for optimum travel to Italy is possible with Select Italy. Based in Chicago with an office in New York and Shanghai and support staff in Italy, the company has expanded its offerings and travel services to the Balkans with the launch of Select Croatia®.