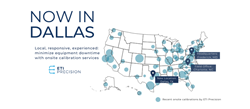 "This field office positions ETI Precision to provide onsite calibration services at our customer's locations' with a quicker turnaround time and at lower cost."
FREDERICK, Md. (PRWEB) October 04, 2021
ETI Precision, a nationwide leader in calibration, repairs, as well as test and measurement equipment, secured a new field service office located in Dallas, Texas. Jonathan Blanchard, CEO of ETI Precision, said "This field office positions ETI Precision to provide onsite calibration services at our customer's locations' with a quicker turnaround time and at lower cost."
ETI Precision offers simplified, onsite annual calibrations in all 50 states to ensure the safety and reliability of your testing equipment. By minimizing the time your equipment is out of commission, ETI Precision keeps your projects on schedule so you can best support your customers. They manage electrical test equipment calibration programs at municipalities, electrical testing businesses, nuclear energy facilities, Fortune 500 companies, electrical contractors, data centers, universities, and utilities of all shapes and sizes.
Jonathan Blanchard goes on to explain, "We view our customers as partners and go above and beyond to provide quick and reliable support. We provide onsite calibration support services at our customers' locations in Texas and surrounding states, and this field service office enables us to better service our customers through localized support, technical assistance, troubleshooting, and a more streamlined and efficient calibration service experience."
If you are interested in learning more about partnering with ETI Precision for your critical test and measurement equipment calibration needs, call 410-857-1880 or visit etiprecision.com.