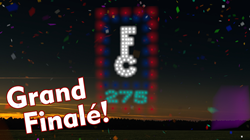 FREDERICK, Md. (PRWEB) May 26, 2023
The Frederick County 275th Planning Committee announced that they will have an official grand finale to include Frederick County's first-ever synchronized drone show at their upcoming jubilee on June 10th.
Sky Elements, of Dallas, Texas, will illuminate the night's sky over Utica District Park. The show will feature 150 drones, customized from 10 key categories: Agriculture, Business and Economy, Changing Communities, Education, Foundations (History), Government, Great Outdoors, Looking Forward (Today & Tomorrow), Tourism, and Transportation.
The drone show will begin at 9:20 p.m. and will run for approximately 15 minutes. The show viewing area will be located by the main stage. In the event of severe weather, only the drone portion of the event will be rescheduled to the following day, June 11, at the same time.
Frederick County's 275th Anniversary Jubilee is being held June 10, from 3 to 10 p.m. at Utica District Park, rain or shine. The free event includes something for everyone—families, history enthusiasts, and anyone looking for a fun way to spend a Saturday.
Additional event details including the schedule of events, an event map, and more information about Frederick County's 275th Jubilee will be updated to frederickcountymd.gov/275jubilee.