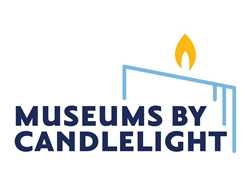 "This event has been an essential part of the holiday season in Frederick County for decades." - Scott Keefer, Co-Chair, Frederick Historic Sites Consortium
FREDERICK, Md. (PRWEB) December 02, 2022
After a two-year virtual hiatus, 17 Frederick County museums and historic sites will celebrate Museums by Candlelight with free admission and special holiday programs on Saturday, December 10. This annual holiday history celebration includes living history programs, hands-on crafts, special tours, and more, all against a backdrop of holiday decorations.
Hosted by the Frederick Historic Sites Consortium and Visit Frederick, this event is a unique opportunity for residents and visitors to have an exciting variety of historical experiences perfect for all ages. Museums by Candlelight program schedules vary by site from 10AM to 7PM.
The Museums by Candlelight program offers visitors the chance to visit as many or few locations as they want on this self-guided tour.
"We are thrilled to bring back Museums by Candlelight this December," said Scott Keefer, co-chair of the Frederick Historic Sites Consortium. "This event has been an essential part of the holiday season in Frederick County for decades. It puts a spotlight on both the heritage of our region and the organizations who share history with the public."
These are the sites and organizations participating in the 2022 edition of Museums by Candlelight.
AARCH Society
Brunswick Public Library
Catoctin Furnace Historical Society - Museum of the Iron Worker
Daughters of Charity Archives
Delaplaine Arts Center
H&F Railway Historical Society - Myersville Community Library
Heritage Frederick
Historic Dahlgren Chapel
Historic Steiner House
Maryland Room - C. Burr Artz Public Library
National Museum of Civil War Medicine
National Shrine of St. Elizabeth Ann Seton
Rose Hill Manor Park and Museums
Schifferstadt Architectural Museum
South Mountain Heritage Society
The William F. Moran Museum & Foundation
Thurmont Historical Society - Creeger House
"We invite all to come and experience Frederick's museums and historic sites during Museums by Candlelight," Keefer said. "Discover the remarkable history and culture we have here in Frederick County this holiday season."
All event information can be found at: https://www.visitfrederick.org/events/annual-events/museums-by-candlelight/
Visit Frederick is the recognized Destination Marketing Organization for Frederick City and Frederick County, Maryland. It operates the Frederick Visitor Center and related Visit Frederick programs that include Destination Marketing and Group Tour Marketing. For more information about Visit Frederick, visit http://www.visitfrederick.org or call 301-600-4047.