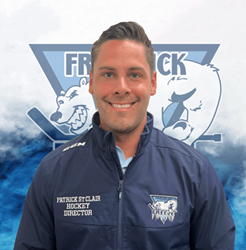 "Joining the Frederick Freeze as its Hockey Director is an incredible honor and for me, really brings my hockey career full circle," said Patrick St Clair.
FREDERICK, Md. (PRWEB) May 25, 2023
The Frederick Freeze proudly announces the appointment of Patrick St Clair as the new Hockey Director for the organization. In his new role, St Clair will oversee all aspects of hockey development and operations, including player and skill development, team and coach management, and membership growth. St Clair replaces Tommy Demers who has served as the Hockey Director since 2014 and announced his departure in early 2023.
As Hockey Director, St Clair will leverage his expertise to enhance the development of players and teams within the organization. His responsibilities will include implementing strategic training programs, fostering a positive team environment, and nurturing the overall growth of the Frederick Freeze.
"We are thrilled to have Patrick St Clair join our organization as the Hockey Director," said Greg Dale, President of the Frederick Freeze. "His commitment to player development and passion for the sport will be invaluable in driving the growth and success of our hockey program."
To kick off his tenure, St Clair will lead several hockey skills clinics this summer and participate in various community "meet and greet" events, providing players and families with unique opportunities to engage and meet the organization's new leader.
"Joining the Frederick Freeze as its Hockey Director is an incredible honor and for me, really brings my hockey career full circle," said Patrick St Clair. "I am excited to work with the talented players, coaches, and staff to further elevate the program and strengthen our position within the hockey community."
Patrick St Clair has a deep connection with the Frederick Youth Hockey Association and the local hockey community. He began his hockey journey playing for the Frederick Phantoms and Frederick Fury, both past monikers of the Frederick Youth Hockey Association. He later joined the Washington Litle Capitals Tier-I "AAA" hockey program before playing high school hockey with the Linganore Lancers, followed by junior hockey with the Frederick Freeze. During his time with the Freeze, St Clair served as team captain, achieved multiple league all-star selections, and emerged as a top scorer.
St Clair's commitment to hockey continued at Towson University, where he captained the Towson Tigers (ACHA D-1 club) and secured the 2013 ECHA League Championship. In 2013, he earned a Bachelor of Science Degree in Sports Management from Towson University's College of Business and Economics.
Following his playing career, St Clair returned to Frederick and contributed as an assistant coach for the Frederick Freeze USPHL Junior hockey team from 2014 to 2016. He played a pivotal role in player recruitment, skill development, and guiding the team to its first USPHL playoff appearance. St Clair later transitioned to youth hockey, serving as an assistant coach with the Frederick Freeze youth hockey program until 2019.
Patrick St Clair will assume his role as Hockey Director with the Frederick Freeze on June 1, 2023, following a regional search and his selection and approval by the Frederick Freeze Board of Directors in May 2023.
In addition to his new position, St Clair will continue his successful career as the Area Sales Manager - Northern Maryland for The AZEK Company, a leading wholesale building materials specialist. He resides in the Lake Linganore neighborhood in New Market, Maryland, with his wife Nicole and their children Natalie (6), Julia (5), and Brooks (2).
About Frederick Freeze
The Frederick Freeze are a USA Hockey Tier-II youth travel hockey organization with over 200 male and female players registered on teams in the Chesapeake Bay Hockey League and Atlantic Hockey Federation. With a commitment to education, family, and the game of hockey, the Frederick Freeze have become one of the top youth hockey programs in the State of Maryland. For more information, please visit http://www.FrederickFreeze.com.