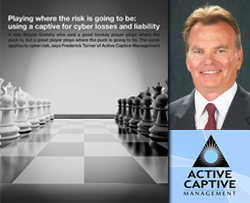 It was Wayne Gretzky who said a good hockey player plays where the puck is, but a great player plays where the puck is going to be. The same applies to cyber risk
Laguna Hills, California (PRWEB) October 15, 2015
Active Captive Management's Founder, Frederick E. Turner, is featured in Captive Insurance Times September 2015 publication. The article is titled "Playing Where the Risk is Going to Be: Using a Captive for Cyber Losses and Liability". In the article, Fred Turner describes the growing risks related to cyber security that all businesses' face, and how a captive insurance company can help organizations plan, prepare, and mitigate that risk. Mr. Turner is an expert in insurance law and regulation and offers his practical advice for how captive insurers can help to cover the risk presented by cyber claims, loss and damages.
Fred Turner details the following topics in the article:
The Growing Landscape of Cyber Security Risks

Cyber risk can attack a business from a variety of angles.
Expenses related to a cyber breach.
An Internal Cyber Risk Management Plan

Company management needs to assume responsibility for monitoring the company's points of vulnerability or attack relative to cyber risk.
Can the company absorb the costs to cure or correct any data or information breach or loss?
A Solid Insurance Program Includes Captives

Commercial market coverage for cyber risk has been hit or miss in terms of what is intended and what is actually covered.
A captive could write the cyber coverage on either a third-or a first party basis and could create a highly tailored policy that perfectly fits the company's risk.
You can read the full article here: http://www.activecaptive.com/pr/Frederick_Turner_Featured_Captive_Insurance_Times_Issue_81.pdf
About Frederick E. Turner
Fred Turner is the owner and founder of Active Captive Management (ACM), located in Laguna Hills, CA. ACM specializes in forming and managing captive insurance companies and providing its clients with risk management and captive insurance solutions. Fred frequently speaks on insurance related topics due to his extensive knowledge of the commercial insurance market, captive insurance companies, and risk mitigation. Fred also currently serves as the Vice Chairman of the Captive Committee, a committee that is part of the ABA's Business Law Group.
About Active Captive Management
Active Captive Management (ACM) was established in 2005 and handles the needs of a wide range of companies in the design, development and implementation of alternative risk solutions. ACM offers comprehensive captive management services encompassing insurance policy underwriting and administration, claims adjusting, accounting support, and captive regulatory compliance management. ACM is an approved captive manager in 17 domestic and three offshore captive domiciles. For more information, visit http://www.activecaptive.com
View Active Captive Management Profile on the Better Business Bureau®