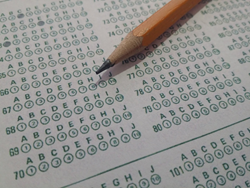 Berkeley, Calif. (PRWEB) March 31, 2017
Magoosh, a leader in online test prep, is giving away free access to its ACT prep program today through Saturday, Apr. 8 in order to assist test takers looking for last-minute help on the April ACT.
Students who sign up during the giveaway period will have access to Magoosh's entire online ACT prep product for one week. The study program includes more than 700 practice questions with text and video explanations, 200 lesson videos, three practice exams with immediate grading, and email communication with test prep experts.
Each student will also have access to personalized one-week study schedules, which are designed to guide ACT students at different experience levels through the online program in seven days.
"We know the week leading up to the ACT can be a stressful time for high school students and their parents," said Dani Lichliter, a marketing manager at Magoosh. "One of our company's goals is to make testing as enjoyable and accessible as possible. We decided to offer these resources for free to help relieve students' stress levels and to provide access to those who may not have been able to afford traditional prep options such as classes or tutors leading up to the exam."
Students can sign up for the free ACT program online at act.magoosh.com/subscribe/full-trial. The personalized study guides are available at magoosh.com/hs/act/2017/one-week-act-study-schedule/.
This free product release will also coincide with a live YouTube tutoring session on Friday, Apr. 7 from 2-4 p.m. PST.
The two-hour YouTube event will feature live instruction from Magoosh ACT experts Kristin Fracchia and Chris Lele, who will cover every area of the exam, including Reading, English, Math and Science. Students will be able to ask questions during the live session and receive responses in real time.
To join the live video session, students should visit youtube.com/c/MagooshACT at the start of the event.
Magoosh online ACT prep usually costs a one-time fee of $79 for one month of access and $99 for six months of access.
For more information about Magoosh, visit magoosh.com.
About Magoosh
Magoosh is an online test-prep company based in Berkeley, California. Founded in 2009, the company is dedicated to making exam prep more affordable and accessible. The Magoosh team creates web and mobile study apps to help students prepare for standardized exams like the ACT, SAT, GRE, GMAT, LSAT, MCAT, TOEFL and Praxis. They've helped prepare more than two million students in 180 countries and have been featured in the Wall Street Journal, Inc. Magazine and Financial Times.