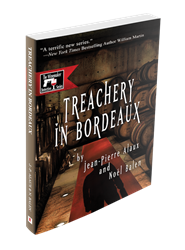 Do not read this book while hungry!
New York, New York (PRWEB) August 18, 2016
Back to school or an excursion to France? Mystery and thriller publisher Le French Book just made that choice easier. They are giving away a free mystery novel set in French wine country, for a limited time only.
The Winemaker Detective series is a celebration of France. It combines enticing mysteries, mouthwatering accounts of food and wine along with authentic descriptions of French countryside. In these fun mysteries, wine expert Benjamin Cooker and his assistant travel the backroads of France's wine regions, where thievery, sabotage, vandalism and murders lurk around many corners. Think of them as a vacation with quirky characters and wine tasting, British-like mysteries with a French flair.
Mystery and thriller publisher Le French Book is giving away the first title in the series for a limited time only.
Readers can get immediate access to Treachery in Bordeaux here.
"We are dedicated to handpicking, translating and publishing top crime fiction from France. This made-for-TV series is one of our readers' favorites, and we wanted to make it available to as many readers as we can," says translator and publisher Anne Trager.
The series is perfect for anyone with an interest in fine wine, gourmet food, and France, armchair travel, whodunits, British-style mysteries, and amateur sleuths.
This limited-time offer gives readers an opportunity to discover the series free of charge.
About Le French Book
Founded in 2011, Le French Book is an independent book publisher focused on bringing France's best mysteries and thrillers and other stories to new readers across the English-speaking world. For more information, please visit: http://www.lefrenchbook.com.
©2016 Le French Book, Inc. All rights reserved. Information is subject to change without notice.