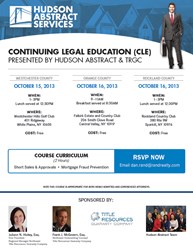 If you are a real estate service professional in Rockland, Westchester or Orange County NY and you have never worked with us before, this is a great opportunity to get to know us and meet our team. -Dan Rand
New City, NY (PRWEB) October 09, 2013
Dan Rand, Vice President of Hudson United Abstract Services, announced today that his firm will be co-sponsoring a NY Continuing Legal Education course for attorneys on the topics of Short Sales & Approvals and Mortgage Fraud Prevention. The class will be held at three separate times and locations to make it convenient for attorneys specializing in Westchester, Orange and Rockland county real estate. Each event will be co-sponsored by Title Resources Guaranty Company (TRGC), a Texas-based title insurance underwriting company serving independent title insurance agents throughout 27 states. Admission is free of charge.
"All NY Attorneys are required to satisfy their license CLE requirement by December 31st. We are excited to offer the Short Sales and Mortgage Fraud Prevention Continuing Legal Education courses as part of our growing commitment to providing excellent service and resources to the attorneys and real estate professionals throughout the NY and NJ areas," says Rand. "If you are a real estate service professional in Rockland, Westchester or Orange County NY and you have never worked with us before, this is a great opportunity to get to know us and meet our team."
The class will be approximately two hours long and is appropriate for newly admitted, as well as experienced attorneys. Either lunch or breakfast will be served at the event. The three events will be held as follows:
1. Westchester County
Westchester Hills Golf Club
401 Ridgeway
White Plains, NY 10605
October 15th, 2013
1pm to 3pm
2. Orange County
Falkirk Estate and Country Club
206 Smith Clove Road
Central Valley, NY 10917
October 16th, 2013
9am to 11am
3. Rockland County
Rockland Country Club
380 Rte 9W
Sparkill, NY 10976
October 16th, 2013
1pm to 3pm
All three events offer 2 hours of education on Short Sales & Mortgage Fraud. All real estate professionals are invited to attend and attorneys are welcomed to stay for the CLE credits. All participants are required to register with Dan Rand at dan.rand(at)randrealty.com. Please include your name, title, company name, and primary contact phone number.
About Hudson United Mortgage, Title and Insurance Services
Hudson United brings NY and NJ mortgage, title, and home insurance process all together in one location giving its clients maximum control of their real estate transaction. All of the moving parts of the real estate transaction take place under one roof. The result is a more cost effective, and simplified process. Hudson Abstract Services Professional, LLC issues title insurance policies as an agent for Title Resources Guaranty Company and The Security Title Guarantee Corporation of Baltimore. Their responsibilities include conducting the searches that determine whether a property is properly insurable, including performing comprehensive searches of county records to trace titles to properties and check for existing code violations. Hudson United Mortgage LLC is a full service mortgage brokerage, with total flexibility to place loans with over 15 banks. Hudson Group Insurance Agency helps clients find the best possible insurance for their situation by having the ability to issue policies from over 20 different insurance companies. All three divisions can be found at http://www.HudsonUnited.com.