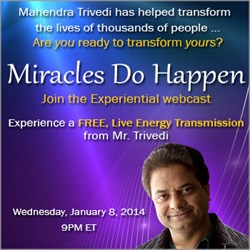 Las Vegas, NV (PRWEB) January 03, 2014
Trivedi Global Inc. dba Trivedi Master Wellness™ is going to host a free live experiential webcast called 'Miracles Do Happen' on January 8, 2014 at 9 PM ET.
On this webcast you will:
1.See the astounding results from some of the thousands of studies conducted on The Trivedi Effect® and understand why top scientists are lining up to do further research
2.Learn how tens of thousands of people have reported near-miraculous improvements in their physical, mental, emotional, sexual, spiritual, social and even financial well-being
3.Discover how you can directly benefit in all aspects of your life through Trivedi Master Wellness™ programs
4.You will receive a live Divine Energy Transmission directly from Mahendra Trivedi, allowing you to immediately start experiencing the miraculous impact of The Trivedi Effect® in your life.
The Trivedi Effect® is a remarkable phenomenon that has been found to have the ability to miraculously transform living organisms and non-living material in ways that can improve performance, functionality and optimize overall potential. The Trivedi Effect® has been experienced by over 200,000 people and many of them have reported that it has brought incredible benefits to all aspects of their lives and many have described their experiences as 'quite miraculous'. People have reported near-miraculous improvements to their physical, mental, emotional, sexual, spiritual, social and even financial well-being. People have reported experiencing relief from or significant improvement in chronic pain, debilitating arthritis, food sensitivities, heart disease, cancer, chronic depression, low self-esteem, poor quality sleep, fear of the future and more.
The potential that the Trivedi Effect® has to induce change at all levels has completely stunned the scientific community throughout the world. The results of over 4,000 scientific experiments conducted on The Trivedi Effect® have shown that change does not occur as a result of the placebo effect. In addition the astounding evidence of transformation that occurred during these experiments has demonstrated that results are lasting and repeatable suggesting that a very real phenomenon is occurring, a process that through the direction of the mind can bring about remarkable transformation.
The Trivedi Effect® has:
1.Increased the yield of crops by up to 500%
2.Strengthened the immunity of plants and trees by up to 600%
3.Converted cancer cells to non-cancerous cells
4.Reduced the presence of HIV by over 96% in laboratory tests
5.Improved the health and productivity of farm animals
6.Changed the size, shape and mass of the atom
This webcast is a remarkable opportunity for people from all walks of life to receive the Divine gift of transformation through The Trivedi Effect ®in their lives. Everyone has the chance to discover the wonders that The Trivedi Effect® can bring to their lives.
To find out more about the Trivedi Effect® or to register for this phenomenal opportunity please visit http://www.trivedimasterwellness.com/health-and-wellness-miracles. If you know someone that may be interested in this event or would benefit from an Energy Transmission please let them know about this valuable opportunity.
About Trivedi Master Wellness™: Mahendra Trivedi has the unique ability to create The Trivedi Effect® and has the scientific evidence to prove it. This phenomenon of Energy Transmission has been tested in over 4,000 experiments conducted using stringent methodologies and the most advanced technologies available on this planet. Many results have been published in leading international, peer-reviewed, scientific journals. Each experiment shows significant transformation with consistent results. The resulting changes show that this energy has the amazing ability to improve the functionality and potential of an individual. Trivedi Master Wellness™ established in 2011 is intended to provide the benefits of The Trivedi Effect® to optimize human potential throughout the world.
Websites: http://www.trivedimasterwellness.com/, http://www.trivedieffect.com/, http://trivedifoundation.org/, http://trivediproducts.com/
Call us on: +1-877-493-4092
For enquiries please mail us at: cs (at) trivedieffect (dot) com