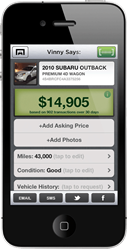 New York, NY (PRWEB) July 17, 2013
Vinny, a new app poised to disrupt the auto market has raised $400k from investors in a 5 day Angel round across 6 states.
"With the Vinny app, buyers just scan the vehicle's VIN barcode and, within seconds, they're able to see the dealer's cost for that car. This is Vinny's Price and it's like having a secret weapon. With Vinny's Price, that big white number that the dealer is asking for suddenly becomes very negotiable," said Alex Kiss, co-founder of Vinny.
"When David stepped up to take on the mighty Goliath, he probably felt a lot like people today who have to go used car shopping. It was just him versus an almost insurmountable force. And like the Philistine giant of old, the price scrawled across a used car's windshield in white shoe polish seems to greet prospective buyers with mocking laughter and derision. After all, what can they possibly do to defend themselves, even though the that price is a few thousand dollars more than what they should be paying. The only option they have is to fight, and fight hard... or, at least that's how it used to be." said Marvin Chase, co-founder of Vinny.
Vinny's Price is formulated using data collected by monitoring thousands of used car transactions across the country every day. These figures are then entered into sophisticated statistical algorithms and calculated within seconds of scanning. In addition to this price, the app also provides full specifications on the car, a summary of the book/retail listings for similar cars, and inexpensive access to a vehicle history report ($4.99 with Vinny vs $40+ for Carfax).
The founders behind Vinny all hail from the world of finance, and one goal that they share is a desire for transparency in the used car market. "Information is power, and that power should belong in the hands of the people. Vinny was created with the car buyer in mind," said Alex Kiss.
The average markup on a used car is $2,400, and only $700 on a new car. This disparity exists because the wholesale cost of used cars is unavailable to the consumer, yet freely available to the dealer community. This is the true definition of information asymmetry. "So, those who don't want to pay an extra $2,400 on their next used automobile purchase can download Vinny and start negotiating like professionals. After all, even David needed his sling," Said Marvin Chase.