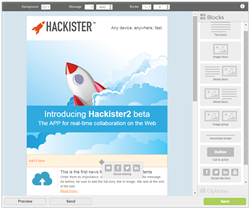 The Bee in BeeFree stands for Best Email Editor: that's a very ambitious goal that we have given ourselves.
San Francisco, CA (PRWEB) October 14, 2014
MailUp, a leading email service provider (ESP), announces the launch of BeeFree, the free online version of the MailUp drag-and-drop email editor. The BeeFree email editor allows email marketers to design stunning, fully responsive email messages without the need of any HTML or CSS coding knowledge, and thus, greatly improving productivity in the email design creation process.
The BeeFree email editor uses the latest HTML and CSS standards for email design, guaranteeing a fully responsive email design ideal for multiscreen viewing and an intuitive, user-friendly interface with drag and drop functionality. Email professionals can create their branded email messages in BeeFree, using pre-built email templates or starting from simple wireframes. They can then save the HTML version of the email along with its images as a zip file, and upload it to their favorite email sending platform. Email marketers can do all of this without having to create an account or log into any service.
BeeFree is an online tool open for the email community to use and intended to advance and innovate what a drag-and-drop email editor can do today. "The Bee in BeeFree stands for Best Email Editor: that's a very ambitious goal that we have given ourselves," says Massimo Arrigoni, Chief Product Officer at MailUp. "We decided that taking the email editor out of MailUp and making it a stand-alone product that anyone can use was the right strategy to get there. It will allow us to collect feedback and push development forward, while also giving the email community a cool tool that will help marketers design nice email messages with little effort."
Email marketers also have the option to send their email created in BeeFree through the MailUp emailing platform by requesting a MailUp trial account, if they decide they want to give MailUp a try.
Key BeeFree Features and Benefits:

Advanced Responsive Email Design. Design rich, branded emails without the need of HTML or CSS coding know-how. The BeeFree editor automatically applies smart CSS media queries to the email you are working on, optimized for multiscreen views, and especially optimized for mobile.
Rich & Basic Templates. Choose from four types of templates: promotional, e-commerce, newsletter, and simple. Each email template utilizes responsive email design.
Intuitive, Drag & Drop User-Interface. Customize your email by easily adding and moving (i.e. dragging and dropping) text, image, mixed blocks, buttons and social sharing links.
Instant Email Preview on Desktop and Mobile. Preview the working email message in real-time and check how it renders on desktop and mobile screens.
Easy Export of Your Email. Save the email and export it as a zip file. The zip file contains the HTML version of the email and an image folder. The zip file can then be imported into your favorite email marketing platform.
Available in 3 Languages. Choose English, Spanish, or Italian as your preferred language when using the editor.
Online and Accessible to Anyone. BeeFree is intended for anyone to use. No sign up of any kind is required.
Visit http://beefree.io/ to check out BeeFree and see how easy it is to design stunning emails.
Please note that BeeFree should be used as an email design creation tool and is not intended to be used as an email sending platform. You can only send to a maximum of 5 email addresses for your testing purposes. Furthermore, sending unsolicited emails is of course not permitted. At MailUp, we take email spam very seriously.
About MailUp
MailUp is the creator and provider of BeeFree. MailUp is a leading email service provider (ESP) in Europe and it is the most widely used email marketing and SMS platform in Italy with over 7,000 customers worldwide and more than 25 billion emails sent each year. In business for more than 10 years, MailUp is listed on the AIM Italia stock exchange and is headquartered in Milan, Italy with additional offices in Cremona, Italy and San Francisco, CA in the US.
The MailUp email and SMS delivery platform combines powerful email marketing tools with SMTP relay for transactional emails and plugins for ecommerce, CRM, and CMS systems. MailUp's pay per speed pricing is ideal for mid-size companies that are looking to scale their email marketing efforts.
For more information visit http://www.mailup.com/