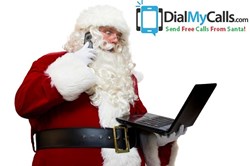 Jupiter, Florida (PRWEB) December 17, 2013
Santa Claus is quite busy preparing gifts for children as Christmas 2013 in only one week away. Despite the busy schedule, Santa has found time to team up with DialMyCalls.com to send kids a personalized phone call this holiday season – over 19,000 free Santa calls have already been made to children all across the United States.
How much does it cost to have Santa call your child this Christmas? DialMyCalls, a voice broadcasting service, is letting Saint Nick use their service to send out the calls at absolutely no cost – each household can send up to three free Santa Calls.
"'Tis the season to be jolly and what better way to put a smile on a child's face than with a personalized call from Santa Claus," says David Batchelor, CEO of DialMyCalls.com. "This is our third year teaming up with Santa and we hope to send out over 100,000 personalized greetings from St. Nick."
Parents, friends or family members can simply sign up for a Santa Calls account on DialMyCalls and in a matter of seconds have a personalized greeting sent to a child. For those families that have more than three children, additional calls may be purchased for a small fee.
Christmas 2013 is only one week away but children can receive an early gift this year in the form of a personalized call from Santa Claus – schedule a call today to put a smile on a child's face this Winter.
About DialMyCalls
DialMyCalls.com was founded in 2006 and offers an extremely efficient and affordable web-based voice and SMS broadcasting system. Its third annual Santa Calls promotion is expected to big its biggest one yet as the company aims to spread holiday cheer to hundreds of thousands of children all across the United States.
For more information, please visit http://www.dialmycalls.com or call 800-928-2086. You can also email tsmith(at)ontimetelecom(dot)com for additional information.