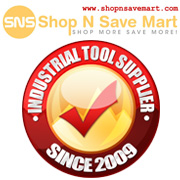 Industrial diamond tools supplier - Get tools overnight for zero shipping cost within USA. A complete solution provider for your diamond tools supply & needs.
Santa Clara Ca (PRWEB) May 01, 2015
The leading diamond tools supplier of granite fabrication tools, concrete stone polishing, grinding, cutting and restoration tools, Shop N Save Mart, has just launched an attractive, special offer for their customers. With the introduction of this offer, all US based customers of the company are now entitled to receive the zero cost shipping benefit on all of their orders. Alongside the 48 contiguous states in America, this zero cost shipping benefit is also valid for orders placed from Hawaii and Alaska. Most importantly, to take advantage of the Free Shipping offer, there is no minimum order size or quantity to qualify. In addition to this zero cost shipping offer, Shop N Save Mart also offers optional services for clients who require faster, expedited and overnight shipping.
Shop N Save Mart started its successful journey as an industrial diamond tool supplier in 2009. Within a very short time, the company has established themselves as a reliable supplier of Granite Concrete Stone Fabrication Restoration Tools, Wet and Dry Diamond Polishing Pads, Diamond Floor Polishing Pads, Diamond Cup Grinding Wheels, Concrete Granite Polishing Pads, Diamond Saw Tuckpoint Blades, Diamond Hand Pads, Diamond Drum Wheels, and much more. Customers have always been the foremost priority for Shop N Save Mart, and this customer-centric nature of the company is reflected in their continuous efforts to provide value additions to their customers.
Offering zero cost shipping to customers has become a common practice for many retailers these days. However, most companies offer this benefit to customers with a certain minimum purchase amount. The free shipping offer for all order sizes, big and small, introduced by Shop N Save will be of great value to consumers because now, their entire purchase will be eligible for refund in case of a return. Previously, they ended up losing the money paid by them for shipping.
Talking about the company's just launched zero cost shipping offer, the President of Shop N Save Mart Sumit K. Suman said, "Complimentary shipping has become an essential need for online shoppers. Shop N Save Mart has gone a step forward and is very excited to offer free shipping with no minimum order size for USA orders including heavier products as well such as diamond router bits. Customer can save money on shipping while at the same time enjoy world class customer service."