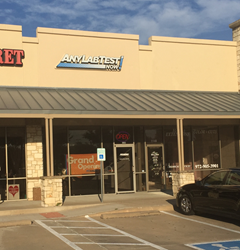 true anonymity, guaranteed lowest prices on tests and results are typically ready within 24 hrs
Frisco, TX (PRWEB) July 17, 2016
The number of Frisco residents testing positive with HIV and other sexually transmitted diseases has been slowly rising since 2004, and a new direct-to-customer lab is hoping to reverse this trend. ANY LAB TEST NOW® opened in Frisco on July 1st and is located on Preston Road near Warren Parkway. Part of their grand opening promotions includes free STD testing for hepatitis B throughout the month of July.
Although the Zika virus is not officially considered a sexually transmitted disease, it is often transmitted through sexual intercourse. The average price of a Zika Virus Test was $728 earlier this year. ANY LAB TEST NOW® customers are encouraged to call ahead for current pricing as it is predicted to drastically drop in price by the end of the summer.
In addition to offering no cost hepatitis B testing, ANY LAB TEST NOW® in Frisco is pricing their STD Panel for only $159. Customers can take an anonymous STD test and receive their results through a secure online portal. Owner Greg Johnson shares, "We offer true anonymity, guaranteed lowest prices on tests and results are typically ready within 24 hrs." ANY LAB TEST NOW® also has a rapid HIV test for customers that desire to know their results within 15 minutes.
ANY LAB TEST NOW® has revolutionized the healthcare industry by being the first lab to offer thousands of medical lab tests directly to customers. The first ANY LAB TEST NOW® opened in Atlanta in 1992 and there are now over 150 locations nationwide. ANY LAB TEST NOW® also works with local health professions concerning discounted phlebotomy options. Anyone can walk into ANY LAB TEST NOW®, choose their own lab work and have complete control over who has access to those results.