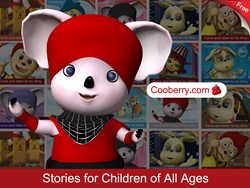 New York, New York (PRWEB) March 03, 2015
Cooberry is a new free child friendly entertainment website designed for kids of all ages. Cooberry's goal is to stimulate young imaginations while encouraging a love for reading. The brightly illustrated, visually appealing and user-friendly site offers picture books, animated stories, chapter books, and audio books to entertain kids as young as 2 and as old as 12. Cooberry provides kids with a fun and educational alternative to TV. Entertaining and age appropriate books are gathered in one centralized location, so parents can spend less time seeking out content and spend more quality time with their children. While Cooberry can be viewed online – it is now Android and iOS compatible. With no commercials or advertisements on Cooberry, children will be uninterrupted while viewing unique, high quality, all-original content every day.
For children ages 2 to 3, parents will travel with their kids into the friendly world of Sproutville where children will easily identify with welcoming characters like Patty Pear and Penny Pineapple. For kids ages 3 to 4, brightly illustrated videos feature characters from Cooberry's longer stories, like JJ and Ace, when they were young. These heart-warming videos tell stories of how the characters learn to make friends, spend time with family, and grow up just like young readers.
Kids ages 4 to 7 will enjoy the action-packed, visually exciting animated original stories. Each story consists of 8 episodes which are 5 minutes each. Every episode ends with a cliff hanger leaving kids eager to tune in for the next episode to see what happens to their favorite character.
Cooberry offers both chapter books and audio books for older kids ages 6 to 12. The all-original content in each chapter book is designed to encourage the start of a life-long love of reading by transporting young readers to exciting, new and fanciful worlds full of adventures. For kids who prefer to listen rather than to read, they can access the same exciting chapter books in an audio book format. These audio books, read aloud by skilled professional entertainers, are perfect to listen to when traveling daily to school on the bus, or on long car or plane rides.
Visit Cooberry at http://www.cooberry.com for more information.