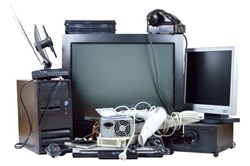 Solutions for a healthy planet!
Mansfield, Massachusetts (PRWEB) October 16, 2013
Miller Recycling Corporation will host its third annual Electronics Recycling Event, on Saturday, October, 19th. This event will take place at their 73 Plymouth Street facility in Mansfield, MA. It will start at 8:00 am and end at 2:00 pm.
"With new electronics coming out every six months, there is bound to be large amounts of obsolete products that need to be properly recycled," stated Mr. Miller, President of Miller Recycling Corporation.
Event Details:
When: October 19, 2013
Time: 8:00 am – 2:00 pm
Where: 73 Plymouth Street Mansfield, MA 02048
Cost: Free
Drop off your unwanted electronic waste such as MP3 players, cameras, telephones, televisions and monitors, VCR and DVD players, recorders, radios and much more. There is no limit on the items you can drop off and the event is free of charge.
For more information on this event visit https://www.facebook.com/MillerRecyclingCorporation/events
Or call 1-800-783-6766 ext. 111
About Miller Recycling Corporation
Operating since 1940, Miller Recycling is a third generation company with the experience required to assist with all paper, metals, plastics, and electronics recycling requirements. Northeast Data Destruction, our NAID "AAA" Certified confidential shredding division, will securely process all your sensitive documents, files, media, hard drives, tapes, CD's, off spec products and storage component.