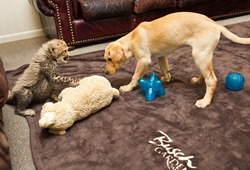 The Humane Heroes series of books about the critically important work being done to preserve Earth's remarkable and endangered animals in today's zoos and aquariums is not only educational and fun, but should be required reading for all our children. I strongly recommend them
COS COB, Conn. (PRWEB) August 09, 2018
Kasi the baby cheetah was orphaned and too young to be introduced into the adult cheetah community. The team at Busch Gardens didn't want Kasi to grow up alone, so they found a special friend for him – a Labrador Retriever puppy. The two young animals lived together until Kasi was old enough to be integrated into the cheetah habitat. The two friends still see each other when the dog visits Kasi at the zoo.
A 23-year old penguin at the Mystic Aquarium in Connecticut also needed help. And some middle school students came to his rescue. They partnered with the aquarium's staff to use the 3D printer at their school to make the penguin a boot that helped him regain mobility.
These are just two of the compelling, real-life stories you'll find in Chicken Soup for Soul: Humane Heroes – a free interactive eBook and curriculum series. Students will become emotionally involved with the animals they meet, at the same time they learn about humane conservation and rehabilitation, animal behavior, and science ¬– all while improving literacy!
Chicken Soup for the Soul, in partnership with American Humane, has launched the Humane Heroes book series and curricula to provide an inspirational, educational experience that teaches children about animal behavior, conservation, declining habitat, and the rescue and rehabilitation efforts at Humane Certified zoos, aquariums and conservation centers around the world. Humane Heroes has been developed for students at the grade four, seven and ten reading levels.
The curriculum materials were created by Resources for Learning, LLC, a leading education consulting firm that also developed the curriculum for Chicken Soup for the Soul Hallway Heroes, a literacy-based SEL bullying prevention program.
Lessons, activities, and interactive digital materials, including animal videos, are designed for flexible, easy classroom implementation. At the same time, the lessons are robust and challenging for students. Teachers in core content classes, counselors, substitute teachers, librarians, camps and after-school programs can use the materials to supplement instruction or for independent study and enrichment.
As students read, analyze, discuss and respond to the stories and information in Chicken Soup for the Soul: Humane Heroes, they connect the lessons to their own lives, learning about empathy, friendship and commitment—all vital focal points of social and emotional learning. Along the way, they'll also develop an understanding and appreciation for the remarkable animals with whom we share our world.
Chicken Soup for the Soul: Humane Heroes, Volumes I, II and III and the curriculum are free and will remain free. They are available for download at http://www.chickensoup.com/ah, where links to download the free eBooks are also provided.
"The Humane Heroes series of books about the critically important work being done to preserve Earth's remarkable and endangered animals in today's zoos and aquariums is not only educational and fun, but should be required reading for all our children. I strongly recommend them!" ~Jeff Corwin, Wildlife biologist, conservationist and TV personality
About Chicken Soup for the Soul
Chicken Soup for the Soul, the world's favorite and most recognized storyteller, publishes the famous Chicken Soup for the Soul book series. With well over 100 million books sold to date in the U.S. and Canada alone, more than 250 titles, and translations into more than 40 languages, "chicken soup for the soul" is one of the world's best-known phrases and is regularly referenced in pop culture. Today, 25 years after it first began sharing happiness, inspiration and hope through its books, this socially conscious company continues to publish a new title a month, but has also evolved beyond the bookstore with super premium pet food, television shows and movies through its subsidiary, Chicken Soup for the Soul Entertainment, podcasts, positive journalism from aplus.com, education programs, and licensed products, all revolving around true stories, as the company continues "changing the world one story at a time®."
About American Humane
American Humane is the country's first national humane organization. Founded in 1877, American Humane has consistently been first to serve in the protection of animals, and is the largest certifier of animal welfare in the world. The organization's life-changing, life-saving programs positively impact some one billion animals each year, helping rescue animals caught in natural disasters and cruelty cases, helping retired military animals and veterans coping with the invisible wounds of war, and helping ensure the welfare and humane treatment of hundreds of millions of animals on farms and ranches, in the world's zoos and aquariums, through their Humane Certified™ program, and in filmed entertainment through their iconic "No Animals Were Harmed®" certification program. For more information, please visit http://www.AmericanHumane.org.