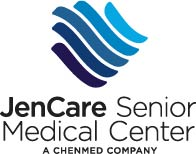 See the pioneers of value-based care and the future of medicine in New Orleans
New Orleans, La. (PRWEB) June 29, 2019
The ability to connect socially with others plays an important role in seniors' mental and physical health as they age. Today, dozens of organizations and volunteers will join the JenCare Senior Medical Center Summer Festival to provide food, music and information that helps seniors stay engaged and active in their community. Hundreds of Medicare-eligible seniors are expected to attend JenCare Fest today between 10 a.m. and 2 p.m. at the JenCare center at 3530 Houma Boulevard in Metairie.
The senior-focused community event will include tasty food and treats, and lively music from DJ Rockin Ron and the Linda Wright Band. Tours of JenCare also will be available. Companies and organizations that will be on hand to provide information for seniors will include those that offer health and beauty, insurance and financial, and allied medical and nutrition products and services.
"This event is an opportunity to bring our seniors out to have fun while learning about valuable services in the community available to them," said Vijayendra Jaligam, M.D., associate market chief medical officer of JenCare. "It's also a great time for seniors and their caregivers to see the pioneers of value-based care and the future of medicine in New Orleans. JenCare is where primary care clinicians honor seniors with affordable VIP care that delivers better health."
All seniors who attend the festival will be entered into a raffle for a $100 gift card, plus over a dozen other drawings. Promotional value is nominal. Seniors' friends and family also are welcome to attend the fest.
About JenCare Senior Medical Center
For seniors most in need of care, high-quality health care often is beyond reach. JenCare Senior Medical Center brings concierge-style medicine — and better health outcomes — to the neediest populations. JenCare is part of ChenMed, a privately owned medical, management and technology company that this summer will be operating more than 60 primary care medical practices for seniors in Florida, Georgia, Illinois, Kentucky, Louisiana, Ohio, Pennsylvania, and Virginia.
ChenMed honors seniors with affordable VIP care that delivers better health. Results of its high-touch approach to primary care are impressive, as illustrated in the recent Modern Healthcare cover story (Oct. 20, 2018), which reports that: "Indeed, ChenMed's approach has resulted in 50 percent fewer hospital admissions compared with a standard primary-care practice, 28 percent lower per-member costs, and significantly higher use of evidence-based medications." Inspired by ChenMed Chairman and founder James Chen, M.D., Ph.D., the company has been serving low-to-moderate-income seniors with multiple complex chronic conditions for over 30 years.