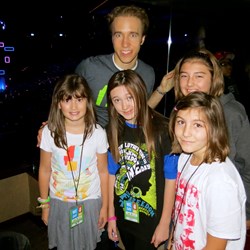 9-yr-old Julia and Goody Awards Founder's niece, presented Craig Kielburger with first official Hero Goody necklace by thanking him for We Day and all he does to inspire kids to make a difference.
(PRWEB) October 10, 2013
To help children get out of poverty, the Goody Awards launches a new Tag Good Program with a Hero Goody necklace that will support Free The Children. The new program is designed to inspire positive change using a combination of online awards (where anyone can tweet a #HeroGoody for their hero on Twitter) and offline recognition (where anyone can give a #HeroGoody necklace to recognize global citizens and up to 50% of profits will go to Free The Children.)
Goody Awards Founder's 9-yr-old niece Julia presented the first official Hero Goody necklace on Tuesday to Free The Children Co-Founder Craig Kielburger at We Day Minnesota (VIDEO). Craig was only 12 years old when he decided to form a group of kids the same age to make the world a better place after reading alarming headlines about child labour. This "Twelve-Twelve-Year-Olds" group evolved into Free The Children, which is now an international charity and educational partner that educates, empowers and engages young people to be global citizens.
Because the Goody Awards' new Hero Goody necklace symbolizes global citizens, Free The Children was a perfect charity to support. Goody Awards Founder Liz H Kelly shared, "We were captured by the enthusiasm of Free The Children, and their Adopt a Village program where anyone can make a big difference by donating to build a school, providing a child with clean water for life, travelling to India or Kenya to participate in service projects, or volunteering at home."
This new Tag Good Program is designed to "stack positives" and reinforce good. If someone is told that they are making a positive impact 20 times, it will encourage a life of service where "it's cool to care." Fans already have been tweeting votes online for Goody Awards of the Month and Year using 5 different hashtags (#HeroGoody, #EcoGoody, #TeamGoody, #TeacherGoody, #GoodDeedGoody), and the winners are posted on GoodyAwards.com.
Anyone who buys this new Hero Goody necklace on GoodyAwards.com is immediately recognized as a global citizen because 25% of the Goody Awards profits will go to Free The Children. And when the necklace is passed forward to a hero ("Pay Good Forward"), and the story is emailed to taggood AT goodyawards.com, another 25% of Goody Awards profits will be donated to Free The Children.
Supporters of Free The Children shared their inspirational stories and honored 18,000+ students and educators at We Day Minnesota on Oct 8, 2013. The attendees earned a ticket by doing community service. Speakers included Her Majesty Queen Noor of Jordan, Demi Lovato (Free The Children Ambassador and "Glee"), Jonas Brothers (GRAMMY nominated artist), Carly Rae Jepsen (GRAMMY nominated singer/songwriter), Mia Farrow, Martin Luther King III, and many others.
Together, WE can change the world and celebrate the success of global citizens! To support positive change, visit http://freethechildren.com and recognize someone doing good with a Hero Goody Necklace http://goodyawards.com/hero-goody-tag-good/.
About Goody Awards –
Goody Awards™ facilitates Social Good Awards via social media, special awards and cause marketing campaigns for brands. Similar to the million$ advertising campaigns that we managed while working for Fox Interactive Media/MySpace, the Goody Awards uses our marketing skills to reinforce good. This Hero Goody necklace is the beginning of an offline extension to raise money for global charities in 4 key areas: education, environment, health and women empowerment. The idea came from a summer camp attended by Goody Awards Founder Liz H Kelly at 9-years-old where the highest award was a Silver A pin for leaders who made the camp a better place. Since camp, Liz Kelly has also developed corporate recognition programs for T. Rowe Price, Sprint PCS and Fox Interactive Media/MySpace, along with traveling to India for work that had a profound impact. Follow @GoodyAwards http://goodyawards.com.