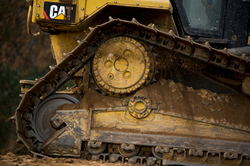 "An improperly managed undercarriage can leave a big dent in your equipment maintenance budget," says Paul Kessel, General Service Manager. "Take advantage of our free, no-obligation undercarriage inspections and keep your operating costs as low as possible."
SAN DIEGO (PRWEB) August 06, 2019
Hawthorne Cat®, the exclusive Cat® equipment dealer in San Diego, the Hawaiian Islands, and the Pacific Region, announces free undercarriage inspections to help you reduce operating costs and avoid emergency repairs.
With our Custom Track Service (CTS) inspection program, we can accurately monitor undercarriage performance and predict wear rates, so you can evaluate service options, plan maintenance, and schedule downtime. Our team of undercarriage specialists will also complete a detailed inspection analysis on your jobsite to help you cut costs, not corners.
"An improperly managed undercarriage can leave a big dent in your equipment maintenance budget," says Paul Kessel, General Service Manager. "Take advantage of our free, no-obligation undercarriage inspections and keep your operating costs as low as possible."
For more information about our free undercarriage inspections, please contact us at 858.954.2790 or register online.
About Hawthorne Cat
Hawthorne Cat is the authorized dealer for Cat construction and power equipment in San Diego, Hawaii, Guam, Saipan and American Samoa. Hawthorne sells, rents, provides parts and service, training, and emission solutions to various industries including general building construction, landscaping, marine, paving, and power generation. For more on Hawthorne Cat, visit http://www.hawthornecat.com.