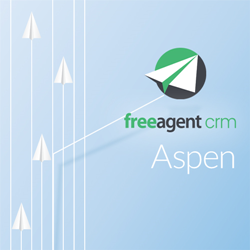 "There are hundreds of CRM solutions, and they are all the same – hard-coded, fixed..." said Dave Stephens, CEO and Co-Founder of FreeAgent CRM. "We learned that very few small businesses could really use these generic CRM solutions. They need something more, and that's what we've delivered."
CALGARY, Alberta (PRWEB) December 20, 2018
FreeAgent CRM: Fulfilling its promise as the most flexible – and easiest-to-use – CRM for small business
FreeAgent CRM is pleased to announce its latest release, Aspen, which promises to change what small business should expect from a CRM, forever. Small businesses no longer have to settle for a one-size-fits-all, generic, customer relationship management; but can now quickly and easily customize their CRM platform for the way they do business.
"There are hundreds of CRM solutions out there, and they are all the same – hard-coded, fixed, what-you-see-is-how-it-works – from now till the end of time." said Dave Stephens, CEO and Co-Founder of FreeAgent CRM. "As we worked with more and more small businesses, we learned that very few could use these "generic" CRM solutions. They needed something more, and that's what we've delivered."
Aspen includes new features not found in any other CRM, plus design updates that make FreeAgent CRM more efficient and easier-to-use.
"Ease of use is more than fonts and colors." said Heather Weir, Head of Design at FreeAgent CRM. "Systems that are incredibly easy to use are purpose-built for their users. Our design philosophy is 'purpose-built' and we've brought that clarity to the small business CRM market."
The FreeAgent Aspen release includes:
Design-your-own-CRM objects
We are the only CRM that empowers small business owners to define the information flow and data objects they need for their unique business. Leads, contacts, accounts, deals, projects, invoices, quotes, tickets - these objects can be defined and named whatever makes sense to business operations
Design-your-own-data-capture
We are the only CRM that gives small business owners the option to decide what data to collect for every CRM object; turning on and off any system or custom field and labeling it with nomenclature that makes sense for the business.
Multi-platform support
We are the only CRM that offers a web app, a desktop app, and native iOS and Android apps that seamlessly handle all your customizations and extensions – automatically.
@mentions:
We are the only small business CRM with @mentions, so collaborating with your team is like working with "Slack-for-sales" - purpose-built for sales collaboration.
More powerful views and pivots
We are the only CRM with board views across all CRM objects (leads, deals, accounts, etc.), that you can pivot by any dimension. FreeAgent CRM has more ways to view and interact with data than any other CRM for small business.
New visual layouts
Streamlined visual layouts show 30% more data than a typical CRM and make it look simpler.
Better performance: Advanced cloud operation delivering service from multiple Amazon AWS data centers with auto-scaling of all technology tiers for an overall increased performance by over 25%.
The small business community is embracing the long-awaited and much-needed option for completely customized CRM that's easy to use and can be implemented without consultants.
"What I love the most about this product is that it is customizable, so it adapts to my needs instead of the other way around." said Magdalena Camarena, Insurance Professional and FreeAgent CRM customer. "It is super user-friendly, and has great customer support! I recommend it 100%."
For more information on FreeAgent CRM feature releases, visit https://www.freeagentcrm.com/blog/
About FreeAgent CRM
FreeAgent CRM is a cloud-based sales, marketing and customer service platform that helps businesses big-and-small nurture quality customer relationships. The platform empowers teams to increase sales and growth by delivering more value to customers and by increasing productivity with modern collaboration tools.