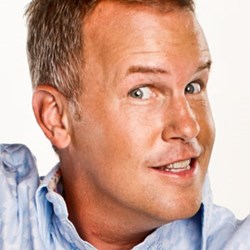 Tickets for the Ultimate Comedy Theater event are currently priced at $15 before January 17th.
Jacksonville, FL (PRWEB) January 16, 2014
Saturday, January 18th the Freedom Way Church is set to turn up the laughs when comedian, Kenn Kington, arrives for the new Ultimate Comedy Theater showcase. This comedy showcase is part of the offerings through the church in 2014 at http://freedomwaychurch.com.
Kenn Kington has appeared on Comedy Central and is one of the top funnymen on XM Satellite radio in the U.S. The 2N comedy DVD featuring Ken's comedy has garnered thousands of views on YouTube. Kenn Kington is known around the country for being family-friendly and is a welcome addition to the Freedom Way Church.
Tickets for the Ultimate Comedy Theater event are currently priced at $15 before January 17th and will then will rise to $20 at the door. Tickets for children 12 and under are priced at $5 for the event.
The Ultimate Comedy Theater event will be held at the Ocean Palms Elementary School in Ponte Vedra Beach, Florida. Lead Pastor, Travis Berkey, helped to organize this family-friendly event for current church members and the general public.
The Freedom Way Church has setup online ticket purchase abilities through the iTickets company to help all attendees of the comedy event purchase tickets in advance or on the day of the show. More information about Kenn Kington or his upcoming schedule can be found at http://kennkington.com.
About Freedom Way Church
Freedom Way Church is a non-denominational church that was established in 2012. It currently meets on Sunday mornings at 10:00 a.m. in the cafeteria of Ocean Palms Elementary School. Dress for the church is casual and the people are friendly. Travis Berkey is the lead pastor and his goal is to see lost people find new life in Christ and also to equip believers to mature toward Christ-likeness. The Freedom Way Church hosts special events and promotes several ministries in and around the North Florida area.