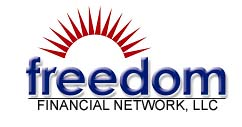 Reaching the $4 billion mark in debt negotiated for our clients is ... a testament to the help we've provided to our hundreds of thousands of clients over the years.
San Mateo, Calif. (PRWEB) September 18, 2015
Freedom Financial Network (FFN), the largest negotiator of consumer debt in the nation, has become the first company in its industry to reach the $4 billion mark in debt negotiated for consumers.
FFN is a consumer credit advocate that negotiates directly with creditors on consumers' behalf to resolve debt balances. Offering an alternative to credit counseling, debt consolidation and bankruptcy, the company's debt relief program helps clients resolve their unsecured debt, often in 24 to 48 months.
"Reaching the $4 billion mark in debt negotiated for our clients is a major milestone for our company and our industry, and a testament to the help we've provided to our hundreds of thousands of clients over the years," says Andrew Housser, co-founder and CEO of FFN. "As the past few years have shown, when it comes to debt, bad things can happen to good people in any economic environment," he adds. "Freedom's services to help clients get out of debt have remained in demand through both strong and weak economic cycles."
The milestone marks years of consistent growth for FFN. Begun in 2002, the company reached the $100 million debt negotiation mark in 2007, and then crossed the $1 billion mark in 2010. FFN reached $2 billion in negotiations in 2013, and $3 billion in 2014. Currently, FFN negotiates more than $3 million of debt each day and nearly $130,000 each hour. Employee growth has been commensurate, moving from a staff of 500 in 2011 to nearly 900 today.
Notably, says Housser, the company continued to grow while adhering to the Federal Trade Commission rules regulating the debt relief industry that took effect in 2010. The regulations aim to help consumers who are struggling with debt make sure they are working with a legitimate, reliable debt-relief company, and included a mandate that no debt relief company charge any fees whatsoever until and unless it resolves debts for its clients. "The change initially created a serious working capital challenge for debt-relief companies," explains Housser. "But the benefit to consumers is significant in that they no longer need to worry about paying large upfront fees that may or may not lead to results."
Freedom Financial Network (http://www.freedomfinancialnetwork.com)
Freedom Financial Network, LLC (FFN), provides comprehensive consumer credit advocacy services. Through the FFN family of companies – Freedom Debt Relief, Freedom Tax Relief, ConsolidationPlus, FreedomPlus and Bills.com – FFN works as an independent advocate to provide comprehensive financial solutions, including debt consolidation, debt resolution, debt settlement and tax resolution services for consumers struggling with debt. The company, which has resolved more than $4 billion in debt and assisted more than 300,000 clients since 2002, is an accredited member of the American Fair Credit Council, and a platinum member of the International Association of Professional Debt Arbitrators.
Based in San Mateo, California, FFN also operates an office in Tempe, Arizona. The company, with nearly 900 employees, was voted one of the best places to work in the San Francisco Bay area in 2008, 2009, 2012, 2013 and 2014, in the Phoenix area in 2008, 2009, 2010, 2012, 2013 and 2014. FFN's founders are recipients of the Northern California Ernst & Young Entrepreneur of the Year Award.
(end)