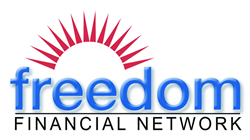 As new grads enter the work world, they need to complete their education with a financial education.
San Mateo, Calif. (PRWEB) May 20, 2015
Recent surveys indicate that as the economy has recovered, Americans are saving some of their healthier incomes – but many are still not stashing enough to prepare for unexpected expenses, says Kevin Gallegos, vice president of Phoenix operations for Freedom Financial Network (FFN).
Americans aren't building emergency funds, and while the economy has improved, consumers do not understand the notion of living within, let alone below, their means, Gallegos noted. In March, the U.S. personal savings rate was 5.3 percent of income, higher than it has been since 2012, but well below the long-term average of 8.4 percent, and far below Freedom Financial Network's suggestion to save at least 10 percent of income. A study from Pew Charitable Trusts published in January found that most U.S. households have one month of income or less saved – a far cry from recommendations to save six to nine months' of living expenses for emergencies. And a Bankrate survey in December 2014 found that only about one-third of U.S. households have enough cash available to cover a $500 to $1,000 expense.
"Living within one's means is the best way to avoid going into debt and build savings," Gallegos said. "As new grads enter the working world, start getting their first 'real' paychecks and paying their first big expenses, they need to complete their education with a financial education. Many graduates – as well as people who have been earning for a while, but might have given up on saving during the recession – could benefit from a refresher on how to live within their means."
With those trends in mind, Freedom Financial Network offers six tips for consumers to learn – or re-learn – to live within their means.
1. Build a budget. Numerous studies report that about one-third of people have a budget – simply an accounting of expenses and income, and a plan of how to allocate the two. "Be sure your budget has a category for savings, and don't neglect to pay into that category," Gallegos said.
2. Categorize wants vs. needs. Divide budget spending categories into wants and needs. Needs include costs of shelter, food, clothing, insurance and, for most people, transportation to work. Next comes savings and debt repayment. One should always view savings as a "need" and put it high on the list. Only then comes spending on "wants."
3. Save first. Life is unpredictable. Having a backup fund to cover those unexpected expenses is very important. Even people who can only save $25 or $100 per month will have $250 to $1,000 at year's end – enough to cover a veterinary bill, new eyeglasses or a car repair. People then can gradually build up how much they save when they get a raise or when payments end on an existing debt. "Make no excuses to avoid saving."
4. Prioritize "wants" based on values and goals. "First, save 10 to 25 percent of your income for emergency savings and retirement," Gallegos said. "Then, evaluate how many 'wants' fit into your financial plan. Ask yourself: Is a 'want' an investment in your future? Prioritize these items."
5. Practice delayed gratification. Gallegos suggested some ideas to rein in spending by delaying gratification. These might include removing stored credit card information from online shopping sites, leaving items in an online shopping cart for 48 hours before purchasing (to see if the purchase is still appealing) or returning to a brick-and-mortar store a few days or a week later for the item, for the same reason.
6. If all else fails, earn more. If it is absolutely impossible to save from current income, that is a warning sign that financial hardship is around the corner. For many people in this situation, it is important to seek out additional income, whether that is working to obtain a raise at a current job, seeking a better-paid position or adding a side job.
"However you manage it, the feeling of having savings to pay down student loans, save for your first home or simply be prepared for a rainy day is priceless," Gallegos concluded.
Freedom Financial Network (http://www.freedomfinancialnetwork.com)
Freedom Financial Network, LLC (FFN), provides comprehensive consumer credit advocacy services. Through the FFN family of companies – Freedom Debt Relief, Freedom Tax Relief, ConsolidationPlus, FreedomPlus and Bills.com – FFN works as an independent advocate to provide comprehensive financial solutions, including debt consolidation, debt resolution, debt settlement and tax resolution services for consumers struggling with debt. The company, which has resolved more than $3.5 billion in debt and assisted more than 300,000 clients since 2002, is an accredited member of the American Fair Credit Council, and a platinum member of the International Association of Professional Debt Arbitrators.
Based in San Mateo, California, FFN also operates an office in Tempe, Arizona. The company, with 800 employees, was voted one of the best places to work in the San Francisco Bay area in 2008, 2009, 2012, 2013 and 2014, in the Phoenix area in 2008, 2009, 2010, 2012, 2013 and 2014. FFN's founders are recipients of the Northern California Ernst & Young Entrepreneur of the Year Award.
(end)