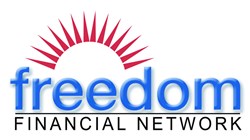 Signals indicate the economy remains unstable – meaning it is still smarter to save than to spend.
San Mateo, CA (PRWEB) September 17, 2013
Increasingly optimistic consumers are cutting revolving debt slightly, but at the same time, upping borrowing for education, vehicles and mobile homes – a category that has topped $2 trillion for the first time, according to the Freedom Financial Network Quarterly Comment on consumer debt and credit issues.
Freedom Financial Network observes several economic indicators closely and provides consumer education in its work to help consumers get out of debt and stay out of debt.
"Consumers may be feeling the effects of this summer's higher housing prices, an active home-buying market, a stock market that's risen overall this year and gradually declining unemployment numbers," said Kevin Gallegos, vice president of Phoenix operations for Freedom Financial Network (FFN). "Most importantly, consumers are doing the right thing to be conservative with revolving debt, which is the most dangerous debt risk."
Total consumer revolving debt, which includes credit card debt, slid downward at a year-over-year rate of 2.6 percent, declining to $849.8 billion in July. This continues a trend over the last five years, in which total consumer revolving debt has dropped fairly steadily. Gallegos attributes the decline to two things: tighter consumer purse strings as the nation entered the recession, and spending limits that were slashed by credit card companies struggling to avoid a spate of credit charge-offs.
"We hope consumers learned their lesson during the financial down times of the past half-decade, but the $150 billion increase in non-revolving debt during the past year is striking," Gallegos said. "We'll continue observing this trend, in hopes that buyers are not casting caution to the wind when it comes to loans for homes, vehicles and education."
"It would appear consumers are investing more in so-called 'safer' debt, which on the surface is not a bad thing," added Andrew Housser, FFN co-founder and CEO. "Yet we do see warning signs, such as this summer's drooping job market for young people, and the fact that some sources report nearly half of college grads are underemployed in positions that don't require a degree. These signals indicate the economy remains unstable – meaning it is still smarter to save than to spend."
Recent financial data as reported:
1. Total consumer debt climbs. In July, the most recent month reported, consumer credit had climbed, year over year, by 4.4 percent. The increase brought total consumer debt (excluding mortgage debt) to $2.852 trillion, setting a new high for the 23rd consecutive month.
2. Revolving debt slips downward. Total consumer revolving debt, which includes credit card debt, slid downward at a year-over-year rate of 2.6 percent, declining to $849.8 billion in July after briefly rising in May and June. In terms of a trend for the year, however, total revolving debt remains about the same as in Q2 2012 and Q1 2013.
3. Non-revolving credit grows quickly. Non-revolving consumer debt – which includes auto and RV loans, and education loans – is still moving up, breaking the $2 trillion mark for the first time in July. Annual growth in non-revolving credit was 7.5 percent in July.
4. Personal income rises. In July (the most recent data available), personal income rose by $14.1 billion, or 0.1 percent. Disposable personal income fared even better, increasing by $21.7 billion or 0.2 percent, the Bureau of Economic Analysis reports. In June, personal income rose 0.3 percent ($38.2 billion) and disposable personal income rose 0.2 percent ($27.3 billion). In even better news for July, that month's income was a 0.1 percent real increase, as opposed to a 0.2 percent real decrease in June.
5. Unemployment numbers see very slight change. The U.S. Bureau of Labor Statistics reports an unemployment rate of 7.3 percent for August, essentially unchanged from July. The number of people who are unemployed also was essentially unchanged in August, at 11.3 million, although this number is down by 500,000 from the last issue of the FFN Quarterly Comment release (June 2013). The jobless rate is down from 8.1 percent one year ago.
The FFN Quarterly Comment pulls together significant statistical releases and provides quarterly comment on timely debt and credit issues that matter to consumers. To schedule an interview with Kevin Gallegos or Andrew Housser, contact Aimee Bennett at 303-843-9840 or aimee(at)faganbusinesscommunications(dot)com.
Freedom Financial Network (http://www.freedomfinancialnetwork.com)
Freedom Financial Network, LLC (FFN), provides comprehensive consumer credit advocacy services. Through its Freedom Debt Relief, Freedom Tax Relief and ConsolidationPlus products, FFN works as an independent advocate to provide comprehensive financial solutions, including debt settlement, debt resolution and tax resolution services for consumers struggling with debt. The company, which has resolved more than $2 billion in debt for more than 150,000 clients since 2002, is an accredited member of the American Fair Credit Council, and a platinum member of the International Association of Professional Debt Arbitrators. The company holds the Goldline Research Preferred Provider certification for excellence among debt relief companies.
Based in San Mateo, Calif., FFN also operates an office in Tempe, Ariz. The company, with more than 550 employees, was voted one of the best places to work in the San Francisco Bay area in 2008, 2009, 2012 and 2013, and in the Phoenix area in 2008, 2009, 2010 and 2012. FFN's founders received the Northern California Ernst & Young Entrepreneur of the Year Award in 2008.