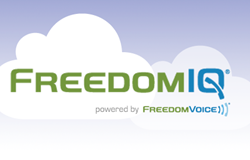 We're very excited to release our ConnectWise integration for our partners and ConnectWise users interested in adding a business phone system solution to their offerings,
Orlando, Florida (PRWEB) November 14, 2013
FreedomVoice®, one of the largest US providers of cloud-based VoIP phone systems, today announced the release of FreedomVoice integration with ConnectWise®, the leading PSA for MSPs and IT resellers.
FreedomVoice on ConnectWise simplifies the quoting process by integrating with quoting tools. Partners can now easily add FreedomIQ as part of the service stack during the MSP sales cycle, or offer a FreedomVoice solution as a separate sale for new customers. MSPs can view their margins at a glance and control the profitability of their business as they negotiate the sale.
The integration also reduces training time for FreedomIQ partners utilizing ConnectWise. A downloadable pre-installation project plan guides technicians through important customer site and ISP analyses steps to ensure a quality installation. This interactive project plan gives the technician feedback as to the readiness of the site and what changes should be made to improve the customer experience.
Installation is handled similarly to the pre-installation with an easy-to-navigate guide that virtually holds the installer's hand through the installation process. FreedomVoice also has US-based Customer Care to provide live support.
Ongoing support is made easy by directly linking customer records between the MSP and FreedomVoice's records in one central location. Customer details are imported from FreedomVoice including their current onsite hardware to help partners guide customer requirements for growth. Quick access to the WebLink online control panel enables partners to make system configuration changes without having to look up phone numbers or usernames and passwords, saving time and improving service response times.
"We're very excited to release our ConnectWise integration for our partners and ConnectWise users interested in adding a business phone system solution to their offerings," said Eric Thomas, President and CEO of FreedomVoice. "ConnectWise is a great tool which many of our partners are already using. FreedomVoice on ConnectWise improves workflow and makes life easier for our partners and their staffs."
ConnectWise users can access FreedomVoice now in the ConnectWise Marketplace at https://marketplace.connectwise.com/p/182/freedomiq.
About FreedomVoice
FreedomVoice was founded in 1996 and today serves nearly 30,000 customers nationwide. It got its start providing virtual phone systems to small businesses and Fortune 500 companies alike. This service remains a key offering from FreedomVoice, including business-enhancing features such as 800 numbers, an auto attendant, call forwarding, and voicemail-to-text. FreedomVoice launched the FreedomIQ cloud-hosted VoIP phone system service in 2006, responding to overwhelming business demand for cloud-hosted phone service. All of FreedomVoice's platform technology has been developed in-house to provide a unique, customizable, and flexible solution that works with any company's workflow. Based in Encinitas, Calif., FreedomVoice is privately-held and remains profitable through strategic partnerships and the agility to develop new technologies ahead of the curve.
For more information, please visit the company's websites at http://www.freedomvoice.com and http://www.freedomiq.com.
"FreedomVoice" and "FreedomIQ" are registered trademarks of FreedomVoice Systems.