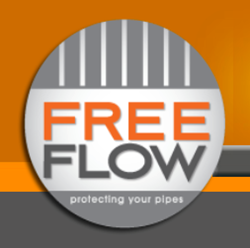 San Diego, CA (PRWEB) February 09, 2016
Free Flow Products, LLC is pleased and excited to announce their full-page feature in this past month's magazine issue of Landscape Contractor Magazine. The magazine featured Free Flow Products' patented Drain Guardian product, an effective yet affordable way to prevent rodents and other critters from entering your property and home. Landscape Contractor Magazine has been serving the professional landscaping community since 1985, with national readership of nearly 50,000 landscaping companies, contractors and professionals.
The revolutionary Drain Guardian is a patented drain protection system that keeps consumers and the environment safe from unwanted pests or pollution. Fitting snugly inside sidewalk curb storm outlets, the Drain Guardian traps rainwater pollutants in while keeping nesting pests out.
The ingenious "one way" trap door design of the Drain Guardian prevents rats, mice, snakes, and other nesting pests from taking up residence during dry periods. If not kept out, these invaders can cause expensive property damage or represent a significant health threat. The Drain Guardian's unique design also prevents outside debris from clogging critical storm drain outlets.
The Drain Guardian requires no tools to install and is easy to maintain. Each unit is easily inserted into the exterior storm drain and is available in both 3-inch and 4-inch diameter units.
Based along the Southern California Coast, the Drain Guardian's inventor, Free Flow Products, LLC, knows the importance of reducing storm water pollution. Southern California alone has an estimated 20 million unprotected drainage discharge holes. The Drain Guardian system offers all property owners a way to help safeguard local bays, watersheds, estuaries, and ocean resources while protecting their own property value.
The Drain Guardian comes in a variety of colors and can be personalized with business names or logos. Landscapers, landscape architects, pest control companies, and other similar businesses have all improved their marketing exposure by personalizing this unique product and including it in their outdoor projects.
Drain Guardian was pioneered by Willie Valdez, CEO of Free Flow Products, LLC. Mr. Valdez has over 30 years experience in landscape design and general contracting. The Drain Guardian drain protection system is available through the company's website for customers Nationwide, with distribution opportunities for wholesalers and retailers alike. For more information, visit http://www.freeflowproducts.com.
###