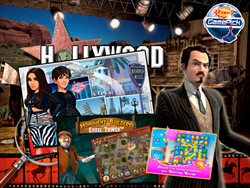 We're delighted with the fantastic new range of games that our visitors will be able to enjoy when they visit the site this June. They are all PC downloadable games and we are sure that they will bring hours of enjoyment to our loyal players.
Salt Lake City, UT (PRWEB) June 18, 2015
Freegamepick greets the summer with dozens of new games. For people who love strategy games, time management puzzlers, or mobile games, the site has revealed its lineup of incoming games for the month ahead with many eagerly awaited titles on the list. These challenging games are all part of the site's PC downloadable library, so users can play their new favorites today.
The Monument Builders series is the first of the games being newly introduced on the site this June. Packed with time management challenges and building skills, players must work to raise historical monuments such as Eiffel Tower, Statute of Liberty and even the legendary Titanic.
Hidden object fans are going to have their hands full with several new exciting titles. The first is XIII- Lost Identity. Packed with adventure, the main character, only known as XIII, is being pursued by mysterious strangers and wanted for a horrific crime. Life becomes a whirl of conspiracy, intrigue and danger. Players must pay close attention to the smallest details and clues, because they will no doubt be the only way to piece together XIII's inexplicable past.
Agatha Christies: Death on the Nile provides more classic hidden object twists and turns. Players encounter a wealthy heiress, who has just been murdered aboard the luxury steamer S.S. Karnak. Acting as notorious super sleuth Hercule Poirot, players must work to solve the shocking mystery as they sail along the exotic Nile River. Was it the betrayed maid, the disgraced writer, the jealous former fiancé - or someone else?
Also new to the hidden object lineup is Hollywood, the deluxe extended edition. Players with stars in their eyes are sure to love this game! As the new Art Director assistant, players will be working on the footage of big budget Hollywood film productions. Players must watch carefully as they will be quizzed throughout the games until they get their star on Hollywood Boulevard!
FreeGamePick has also prepared a new line up of popular mobile titles. Mobile gamers now can play Kim Kardashian game and join her on red carpet adventures in the Hollywood. Mobile game enthusiasts can now take over L.A. in a virtual world complete with exclusive clubs, upscale boutiques, and luxury homes. Travel, flirt and become the next huge celebrity power-couple. Players can also create their own entourage and bring their friends along for the crazy using Game Center and Facebook . Players can strategically help each other rise to fame, compare styles, send gifts, and see who can be the biggest star!
Finally, for puzzle fans FreeGamePick has Candy Crush Soda Saga, a whole brand new game. More candies, more divine combinations and even more challenging game modes brimming with fun (and purple soda!). This mouth-watering puzzle adventure will instantly quench your summer thirst for fun. Take on this Sodalicious Saga alone or invite friends to see who can get the highest score.
These casual games can provide a necessary break and offer up a new opportunity on hot summer days. Eric Powers, from FreeGamePick.net said, "We're delighted with the fantastic new range of games that our visitors will be able to enjoy when they visit the site this June. They are all downloadable PC games and we are sure that they will bring hours of enjoyment to our loyal players."