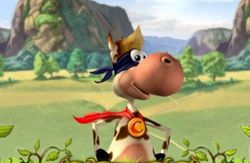 Eric Powers, from FreeGamePick.net said, 'With the dog days of summer closing in, there is no better time to curl up in from of the computer with a great game. Luckily, we have a fantastic selection of new titles to choose from this month!'
Salt Lake City, UT (PRWEB) August 05, 2014
The free PC games website, FreeGamePick has a new cool assortment of fresh titles this August. The FreeGamePick game production department has revealed its lineup of incoming games for the month ahead with no less than three eagerly awaited arcade games on the list.
This trio of arcade games are all located in the site's PC downloadable catalog. The first of the brand new games is Supercow. In this lighthearted arcade game, the hero, Supercow returns to the family farm to save its inhabitants. Players will enjoy a fantastic cartoon story, with over 50 levels. Suitable for all ages, Supercow is good entertainment that offers a healthy dose of good humor!
In the second new game, 4 Elements, players will find themselves surrounded by mystery and intrigue! Players must rely on their puzzle prowess when they help liberate a cursed ancient kingdom. Fairies, dragons, and other magical creatures will help guide players along their perilous journey. This fairytale puzzler is designed to offer hours of enjoyment, there are over 60 levels of captivating gameplay set in stunning locations.
Also PC downloadable, Zombie Shooter 2 is expected to be one of the most popular downloadable games for the month of August. A very unique blend of two genres, Action and RPG, this action packed adventure is the second installment in the series which has been quick to establish itself as a fan favorite. Players can choose from over 60 different weapon types and many different vehicles, including battle drones!
Eric Powers, from FreeGamePick.net said, "With the dog days of summer closing in, there is no better time to curl up in from of the computer with a great game. Luckily, we have a fantastic selection of new titles to choose from this month!"
No registration is necessary to play any of the games on FreeGamePick.net. To find out more and to play, visit http://www.freegamepick.net.
Originally founded in 2008, FreeGamePick, ("FreeGamePick"), is one of the world's largest producers of free premium casual games. FreeGamePick is dedicated to bringing innovative entertainment to casual games throughout the world. FreeGamePick has served millions of gamers worldwide by providing fresh entertainment to each user, on any device. Due to FreeGamePick's exclusive web platform, users can simply browse, select and play a large variety of downloadable PC games, online in-browser and mobile games created by FreeGamePick's wide network of exclusive partners and its internal game development department. FreeGamePick's games are played in over 150 countries around the globe on many different devices across a dozen languages. The company is head quartered in Salt Lake City, Utah. For more information visit http://www.freegamepick.net.