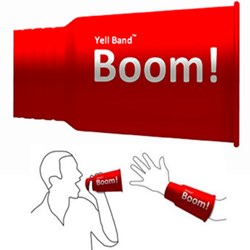 Only 5000 pro football fans will get into the Yell Band Membership Program.
Houston, TX (PRWEB) August 12, 2013
A Houston based inventor/entrepreneur is offering a limited number of sports fans the opportunity to receive free Texans tickets for life in exchange for help crowd funding the licensing of National Football League logos. The logos are to be imprinted on the Yell Band product line. Supporters can learn about Yell Bands and get offer details here: http://bit.ly/18X9xvu
Yell Bands™ are wearable megaphones that users can use to yell their support for their favorite NFL teams.
Contributors to the crowd funding effort will receive Yell Bands + Inclusion into the Yell Band Membership Program, where they get free sporting events tickets every year for the life of the company which could be 20 years or more.
"This product started in Houston, and Houston fans should benefit first but all NFL fans are welcome. Fans with Yell Bands help teams win."
As the company licenses team Logos for NFL Teams, Manufacturing, and Distribution and ramps up sells, crowd funding supporters will need to log in to their account where they can choose from a list of available sporting event tickets for their favorite team's games for the duration of the life of the company.
Supporters will choose from game options listed on http://www.yellband.com website and Yell Band LLC after funding and ramp up.
"Only 5000 pro football fans will get into the Yell Band Membership Program. So, it is important for fans to move quickly on this offer."
"Through our crowd funding campaign on indiegogo.com, we are giving sports fans a chance of a lifetime. Football is a passionate sport with passionate fans. Our crowd funding supporters stand to gain a great yearly game experience and benefit. We intend to have a lot of fun," says Orin Roberson president.
Early Yell Bands branded with team logos, with certificates of authenticity can become very valuable as collector items.
"We've asked football fans to help spread the word of this opportunity by telling family, friends and coworkers about this opportunity before the limited spots are all taken. Tweet it. Like it. Email it. Mention on forums, tell it. I think that the opportunity to pay one time and get sporting event tickets for life is a good deal and a great way to express our appreciation to the football fans that help us. The more we raise, the more we can do and the faster we can ramp up," says Orin Roberson
The following teams' NFL logo licenses are being sought:
Arizona Cardinals, Atlanta Falcons, Baltimore Ravens, Buffalo Bills, Carolina Panthers, Chicago Bears, Cincinnati Bengals, Cleveland Browns, Dallas Cowboys, Denver Broncos, Detroit Lions, Green Bay Packers, Houston Texans, Indianapolis Colts, Jacksonville Jaguars, Kansas City Chiefs, Miami Dolphins, Minnesota Vikings, New England Patriots, New Orleans Saints, New York Giants, New York Jets, Oakland Raiders, Philadelphia Eagles, Pittsburgh Steelers, Saint Louis Rams, San Diego Chargers, San Francisco 49ers, Seattle Seahawks, Tampa Bay Buccaneers, Tennessee Titans, Washington Redskins
Football fans can get more details and get in on the tickets for life here: http://bit.ly/18X9xvu