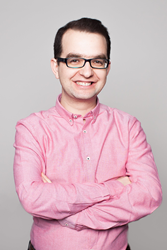 Search engines have replaced phone books, and getting your business "on the map" now literally means getting it on Google's and Bing's maps.
Manchester, Greater Manchester (PRWEB) April 30, 2016
MAN Digital, a cutting-edge search marketing company, has just launched a service to help small businesses in the Europe and US.
It's headed by Romeo Man, a sales and automation expert who specialises in driving phone calls through digital channels.
His approach brings a secret ingredient that he picked up from deep within the sales department of UK corporation Premier Farnell – call tracking. In the past, only corporations could see the exact effect of every pound they invest. Now, a local dentist could do the same.
Call tracking combined with excellent SEO practices (i.e. getting in Google maps so nearby people can find you in a jiffy), is an easy way for many small businesses to make serious improvements to their bottom line, says Romeo Man.
When he started his journey, Romeo set his sights on world travel and self-employment. This led him to intern for a group of high-end consultants. One of them took a shine to the ambitious young man, and gave him advice that would change the course of his life – If he wanted to carve out his career as a consultant for big companies, he would first need to work for a few of them.
He took the plunge and joined DHL, then Electrolux, then Premier Farnell, being stationed all over Europe and Asia. He found himself smothered by procedures and protocol. He was put on phones to move product, and he did just that. Anna Smykowska - HR SSC DIRECTOR, EMEA AT PEARSON, a co-worker of Romeo's, said of him, "What I appreciate the most is his commitment to customer service, his ability to anticipate customer needs and focus on big picture."
One thing seemed odd to him. How did the big-wigs know how much he and his colleagues individually produced? There were so many of them, cubicle after cubicle of ringing phones. How did anyone know what was going on?
The answer: Call tracking.
While his peers complained about "Big Brother", Romeo noticed the potential in this industry standard. For any business, large or small, knowing where each call came from (Google, Social Media, Yelp, a local magazine) and how effective each was is invaluable. For decades, it's been only big corporations that could afford such systems.
Today, it's available to us all.
Small businesses can implement tracking systems today, without being tyrants about it. They can react to the data any way they want, but they need to know, because they don't have the money to waste on marketing and sales processes that aren't working.
At long last, it was time to leave the corporate world, as he had always intended to do, and go back to helping small businesses.
He learned how to implement these systems on his own, and started to test out his new abilities by sending targeted phone calls to US businesses, from the other side of the world.
Local businesses took notice and asked for his help, including successful young company Bleesk. Tomasz Rupik, Bleesk co-founder, happily recommends him: "Romeo is a talented growth hacker, focused on adding true value to your marketing strategy."
While working one-on-one with people, Romeo saw his calling. His dreams as a young man aligned with the unique skillset he has developed on his journey. The next step was clear. Specialise in transforming the results of businesses which are great at what they do, yet are struggling in this new landscape of digital sales.
Search engines have replaced phone books, and getting your business "on the map" now literally means getting it on Google's and Bing's maps. Yet, most small businesses don't know how to do that, let alone how to excel in it and beat their competition.
MAN Digital is more than your average SEO agency. Romeo doesn't merely promise "possible rankings" some time in the future. He tracks the results of every action. The ROI of every pound invested and every minute spent will be in plain writing. He knows exactly what small businesses can do to get the most out of the search engines, and through simple call tracking systems, you'll see where every phone call came from.
Click here to use MAN Digital's free SEO audit tool for free to see where you stand in the search engines right now.
Contact Details: Romeo Man
Address:
MAN Digital
58 Stockport Rd,
M12 6AL, Manchester, UK
Phone: +44 1616947221
Email: romeo{at}man{dot}digital
Website: https://man.digital/freelance-seo-manchester/