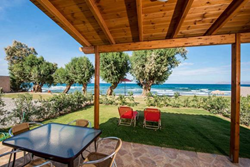 It's always an honour to see our properties chosen for such prestigious features
(PRWEB UK) 20 January 2015
Freelance Holidays, specialists in villa rentals in Crete and other Mediterranean destinations, are proud to have their properties picked once more by The Times and The Sunday Times in their top choices for the year ahead. Three of their Cretan properties, Villa Nikoletta in Armeni, the Stalos Beach Villa in Stalos and Yianni's House in Spilia, were selected by the paper's travel experts as being amongst the best holiday destinations of 2015.
Chosen by a team of experts led by chief travel writer Chris Haslam, The Sunday Times' list of "The 100 best holidays of 2015" was published on the 11th January, and included the Stalos Beach Villa as one of the best choices for a beach holiday. Described as a "peak-season beachside villa on Crete's gorgeous western coast" this lovely property is new for the 2015 season, and is a simple, comfortable and family-friendly two bedroom property with a shady garden and golden sands just down the steps.
The Times' list of "The 50 best villas in the Mediterranean", by travel journalist Liz Bird, included two of Freelance Holidays' properties. Yianni's House was selected as one of the best villas for couples, describing it as a "characterful retreat" offering a taste of rural Cretan life. In the budget category, the Villa Nikoletta again offers a taste of the traditional, with the original features of this sympathetically renovated two-bedroom farmhouse, its village setting and the authentic local cuisine all cited amongst its attractions.
Managing Director of Freelance Holidays, Paul Fogg, said; "It's always an honour to see our properties chosen for such prestigious features, whether it's a new property such as the Stalos Beach Villa or an established one like Yianni's House. We see it as a testament to the passion, enthusiasm and attitude of our staff both in the UK and in Crete, as well as the care and attention that we put into choosing and maintaining the properties that we offer."
Established in 1984, Freelance Holidays specialise in unique, characterful villa rentals throughout the Mediterranean. Beginning with a selection of simple studios and village houses in Crete and Mallorca, they have expanded to include properties in Sardinia, Sicily, Kefalonia and other desirable locations. Each property is carefully chosen to provide a special holiday destination, and the Freelance Holidays team combine indepth local knowledge with personal stays at the properties in order to provide an unparalleled service to their customers.
For more information on Freelance Holidays and their properties, visit their website at http://www.freelance-holidays.co.uk.