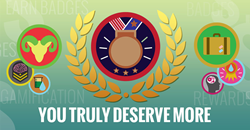 You Truly Deserve More
London, UK (PRWEB UK) 27 July 2014
True to its goal of helping sellers earn more, buyers do more so that everyone can be more on its micro jobs marketplace, Fourerr officially launches its new virtual rewards system that awards levels, badges and points to its users when buying or selling services on the site.
What makes the Fourerr Rewards different? Unlike the usual rewards system, this micro jobs platform employs a virtual currency that can be used to buy services or feature jobs on the site. Any member is rewarded coins for each action taken on the site in a fun and social way that will also help them get quality prospects all the same. For every 100 coins collected, this is convertible to $1 which can be used within the platform.
Fourerr, whose name is derived from the number four, now features these levels on the site: The Greenhorn, The Adventurer, The Specialist, and The Visionary (or Fourerr Expert). Users have the freedom to sell their services starting from $4, no matter what level they are at, and earn up to $700 in micro jobs sold on the site. These levels are not hard to achieve either as each action to be taken is a nudge towards building trust in this fast-paced, pay-per-result, online jobs marketplace.
On top of these levels, Fourerr also runs profile and micro jobs completeness badges to help sellers build credibility and boost their earning potential, while customizing the experience for buyers to make sure that they get the work done right and pay for quality results.
Currently, new users will get instant 50 points when they sign up, together with a free guide on how they can maximize their experience on this micro jobs platform. After having a better website security and user experience launched in the last three months, Fourerr is continuously working hard to find more ways to improve and create more rewards for its growing number of users who truly deserve more value for their time and money. Learn more about Fourerr Rewards here: http://fourerr.com/rewards.