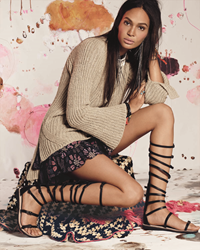 We are thrilled to have the opportunity to offer our customer a wider range of products for her lifestyle!
Philadelphia, PA (PRWEB) February 01, 2016
Lifestyle brand, Free People, will bring its eclectic apparel to downtown Toronto's urban shopping destination, CF Toronto Eaton Centre, on Friday, February 12th 2016. At 5,440 gross square-feet, Free People is thrilled to open its third store in the Toronto area. Currently, Free People operates boutiques in Yorkville Avenue and CF Sherway Gardens. This will be the brand's 116th store across the United States and Canada.
The new space will be designed in the brand's 'Boho Studio' concept. Highlighting the creative side of the Free People girl, the space is designed to feel like her personal studio workshop by featuring a mix of rugged elements and feminine details throughout. Customers will be welcomed through a custom steel and glass storefront featuring central double entry doors and custom hardware. A natural brick base will adorn the entire length of the storefront, with natural brick pavers positioned at the alcove entry and a backlit 'Free People' sign installed on the right of the store's façade. Inside the space, the palette is soft and light. Reclaimed wide plank wood flooring changes direction within the store for easy customer navigation. Intricate wood beam details on the ceiling, featuring white washed wood slats with soft maple wood studs, further help delineate the store's multiple shopping areas. Painted textured bricks, reclaimed white painted beadboard, soft maple cladding and plaster walls help complement the studio theme, while warm metal accents such as brassy leaning floor mirrors and twinkle lights throughout further speak to the feminine aspect. 10 fitting rooms will be nestled towards the rear of the store featuring soft maple wood stud frames, dusty pink plaster walls, and special coin curtains. Customers will be able to checkout through a central 4 POS cashwrap featuring a built-in backwrap with soft maple shelving which displays the Free People girls' most favorite collections.
"We are so excited to open our newest Free People location in the heart of Toronto at CF Eaton Centre. This boutique will be a large format store showcasing an expanded apparel and accessory selection, along with both an 'Intimately FP' and 'FP Collection' shoe shop," said Beth Wehagen, Free People's Director of Retail. "We are thrilled to have the opportunity to offer our customer a wider range of products for her lifestyle! The Toronto Metro Area is a mecca for incredible retail brands and fashion, and we are happy to be growing in the market."
At opening, Free People CF Eaton Centre will be stocked with an assortment of fashionable spring styles highlighting seasonal floral and artisanal stripe prints, embellished and embroidered pieces, and hand-touched laces. A strong selection of spring dresses will be available in various silhouettes, including mini, body-con staples, shapeless wears, and maxi styles. A retro inspired vibe that stays true to the Free People girl, highlighting mini-skirts in denim, unique textures, and printed styles paired back to bodysuits and a selection of feminine tops, will be merchandised throughout the boutique. Those shopping for more casual looks will be excited to shop the brand's latest assortment of essential tees and button down styles. Free People CF Eaton Centre will also house a curated 'Party Dress' shop for those looking for something extra special. The boutique will highlight a 'Blue Jean Baby' denim shop which will carry some of the brand's essential denim bottoms, including boyfriends, flares, wide-legs, and overalls, as well as denim fashion styles across all classes including dresses, tops, one-pieces, and jackets. Mixed within the assortment, customers can look forward to finding a unique curated selection of wear-now sweaters and jackets for layering. A dedicated 'FP Collection' shoe shop will highlight a desirable selection of boots, including tall, ankle, and heeled styles, as well as flats, heels, and wedges. The brand's popular 'Intimately Free People' line of bras, undies, slips, seamless layering pieces, and loungewear will also have a shop within the space. In accessories, leather waist belts, metal jewelry, sunglasses, lieutenant hats, scarves, ponchos, and assorted bags will be the focus.
The store will have a opening celebration on Friday, February 12th from 6-8pm. Join us for a 'Meet & Greet' with style blogger Chloe Zhang while shopping her favorite Free People pieces. The first 50 customers to arrive will receive floral bouquets from Timberlost and Humblebound and light refreshments from The Goods will be served. Guests should RSVP on Facebook: https://www.facebook.com/events/501160880092526/
To connect with the local community, the brand is launching the "Free People CF Eaton Centre" sweepstakes. From January 28th through February 10th, local Toronto customers can enter for a chance to win a $500 CAD Free People Gift Card that must be picked up to redeem at the new Free People CF Eaton Centre boutique. To enter, customers must visit: http://www.freepeople.com/Eaton_Centre_Sweeps
Each Free People store offers personalized shopping experiences from a team of expert stylists. Free People CF Eaton Centre customers can schedule a one-on-one appointment with their favorite stylist, as well as interact and gain inspiration through the brand's online Style Community, FP Me.
Free People Eaton Centre will be located at CF Toronto Eaton Centre at 220 Yonge St. #211. Toronto ON, M5B 2H1. Store hours will run Monday through Friday 10am-9:30pm, Saturdays 9:30am-9:30pm, and Sundays 10am-7pm. Fans should follow the store on Instagram to stay up-to-date on all the latest arrivals, events, and other happenings: https://www.instagram.com/freepeopletoronto/
For more information, images, to request an interview, or to discuss a TV opportunity, please call Katerina Patouhas at 215-454-4973 or email kpatouhas(at)freepeople.com
###
About Free People
Free People is a specialty clothing brand featuring the latest trends and vintage collections for women who live free through fashion, art, music, and travel. The eclectic look consists of quality apparel, shoes, and accessories that invoke attributes of femininity, spirit, and creativity with its design. Free People is distributed globally via direct channels including the Free People Global site, the Free People UK site, and the Free People China site as well as specialty boutiques, top department stores, and the brand's free standing retail locations in the U.S. and Canada.
About CF Toronto Eaton Centre
Located in the heart of downtown, CF Toronto Eaton Centre is one of the most recognizable landmarks and country's best-known retail shopping destinations. With over $500 million in recent redevelopment activity, the centre has added 29 new retailers to its mix, with Saks Fifth Avenue and Nordstrom set to open in 2016 and 2017. For more information download the CF Shop app or visit http://www.cfshops.com/toronto-eaton-centre/stores.html. CF Toronto Eaton Centre is owned by Cadillac Fairview, one of North America's largest owners, operators and developers of commercial real estate.