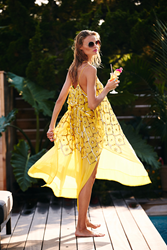 As we continue to expand overseas, Puerto Rico's welcoming community, tropical climate, and lively lifestyle paint the perfect backdrop for our newest Free People boutique.
Philadelphia, PA (PRWEB) November 12, 2015
Specialty clothing brand, Free People, will open its 114th boutique in San Juan, Puerto Rico on November 27th 2015. Bringing its eclectic apparel to the island's recently constructed upscale shopping destination, The Mall of San Juan, the brand will carry unique designs sure to become favorites for the local population as well as traveling visitors. Opening in time for the holidays on Black Friday, the 5,000 gross square foot location will be will be filled with unique holiday fashions, including a special assortment of sequined and embellished pieces, along with a collection of products from the brand's intimates line, 'Intimately FP'.
"We are thrilled to be opening our first Free People store in Puerto Rico at the island's new Mall of San Juan during the holiday season," says Beth Wehagen, Free People's Director of Retail. "As we continue to expand overseas, Puerto Rico's welcoming community, tropical climate, and lively lifestyle paint the perfect backdrop for our newest Free People boutique. This store will feature a wide-ranging product assortment that will cater to local customers and tourists alike, highlighting warm weather essentials and a curated 'Intimately FP' shop. The Free People lifestyle resonates so well with the local culture! I truly cannot wait for the brand to become an intrinsic part of the island's community as shoppers develop a connection with the brand. I'm confident our product offerings will delight and look forward to opening the doors on Black Friday."
The new boutique will be designed in the brand's 'Glam Boho' concept, representing the globe traveling girl and the collections that she curates and displays in her space. The experience starts at the entry, with a custom angled wood storefront highlighting large double entry doors and cladded white washed white oak planks featuring carved panels. Natural brick pavers at the entry alcove and a brass backlit 'Free People' sign complete the distinctive storefront. Upon entry, the overall palette is warm and inviting. An intricate high ceiling, made up of soft maple wood beam detailing and 2 skylights across the cashwrap, breaks up the boutique's multiple shopping areas. Located towards the rear of the store, shoppers will be able to try on the brand's merchandise offerings via 8 fittings room stalls featuring shimmery coin curtains, leaning brass framed mirrors, and a beautiful common area illuminated by a cluster of starburst lanterns. Additional interior finishes include reclaimed wide plank flooring throughout the store and mica plaster and suede washed walls. A special fixture package of inlayed table tops, brightly patched quilts, and cast iron fixtures completes the boutique's ambiance.
At opening, Free People Puerto Rico will be stocked with an assortment of weather appropriate holiday styles featuring unique embroidery, lively prints, and sultry lace with touches of sparkle. Shoppers can look forward to a large assortment of dresses in varied silhouettes, including bodycon staples, shapeless wears, as well as mini and maxi styles. An 'Indigo Shop' will provide customers with head to toe indigo outfitting options through denim, chambray, and blue washes across all classes, as well as a strong jeans assortment highlighting shorts, miniskirts, skinnies, boyfriends, one-pieces, and flares. Flowy 70's inspired woven print tops and button-down knits will provide customers with easy outfitting options. Tight layering top styles, featuring deep-v necklines and lace-up details, will also be merchandised throughout the boutique. The space will include a dedicated 'White Shop' to aid in creating that classic warm weather allure, highlighting pieces from the brand's 'Endless Summer' and 'FP Beach' lines to further cater to the local market. Free People Puerto Rico will also house the brand's 'Intimately FP' line of bras, undies, slips, seamless layering pieces, and loungewear and will play home to an assortment of accessories, including sunglasses, bags, jewelry, hair adornments, and hats.
The new store will have tote bag giveaways and mystery Free People Gift Cards of various amounts for the first 50 customers to arrive on opening day, Friday, November 27th. Customers can also look forward to light refreshments and açai bowls from Fit2Run. The Mall of San Juan will be open from 7AM to 10PM.
To connect with the local community, the brand is launching the "Free People is Coming to San Juan Sweeps". Through November 25th, local Puerto Rico customers can enter for a chance to win a $500 Free People Gift Card that must be picked up to redeem at the new Free People Puerto Rico boutique. To enter, customers must visit:
http://www.freepeople.com/puerto-rico-store-opening/
Each Free People store offers personalized shopping experiences from a team of expert stylists. Free People Puerto Rico customers can schedule a one-on-one appointment with their favorite stylist, as well as interact and gain inspiration through the brand's online Style Community, FP Me.
Free People Puerto Rico will be located at 1000 Mall of San Juan Blvd., #246 San Juan, Puerto Rico 00924. Store hours will run Monday-Saturday 10am-9pm and Sunday 11am-7pm. Fans should follow the store on Facebook and Instagram to stay up-to-date on all the latest arrivals, events, and other happenings.
For more information, images, to request an interview, or to discuss a TV opportunity, please call Sarah Santos at 215-454-7224 or email ssantos(at)freepeople(dot)com.
###
About Free People
Free People is a specialty clothing brand featuring the latest trends and vintage collections for women who live free through fashion, art, music, and travel. The eclectic look consists of quality apparel, shoes, and accessories that invoke attributes of femininity, spirit, and creativity with its design. Free People is distributed globally via direct channels including the Free People Global site, the Free People UK site, and the Free People China site as well as specialty boutiques, top department stores, and the brand's free standing retail locations in the U.S. and Canada.
About The Mall of San Juan
The Mall of San Juan is a world-class shopping, dining and entertainment destination featuring many distinct, unique to market retailers, including the first Saks Fifth Avenue and Nordstrom in the Caribbean. The center is open from 10 a.m. to 9 p.m. Monday through Saturday and from 11 a.m. to 7 p.m. on Sunday. It is located at the south end of the Teodoro Moscoso Bridge, five minutes from the Luis Muñoz Marín International Airport. For more information visit http://www.themallofsanjuan.com.