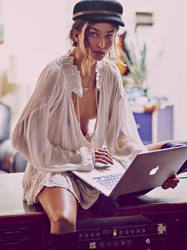 I am confident that the Free People lifestyle will inspire and resonate well with the local customer.
Philadelphia, PA (PRWEB) July 14, 2015
Specialty fashion brand, Free People, will bring its coveted assortment to Saint Louis, Missouri on July 24th, 2015. Joining sister brands Anthropologie and Urban Outfitters at the Saint Louis Galleria, the centrally located boutique will be the brand's first in Saint Louis and the 109th across the United States and Canada. Boasting 4,887 gross square feet, the new space will feature an 'FP Collection' shoe shop as well as a special 'Intimately Free People' area.
The new boutique will be designed in the brand's 'Black Smith's Cottage' concept, highlighting the more rugged side of the Free People girl, making the space feel like her personal workshop by featuring a mix of rugged elements and feminine details throughout. Guests are welcomed by a custom blackened steel storefront and glass double entry doors adorned with decorative laser cut grills and clad with horizontal rough sawn wood. Inside, the space is delineated with a varied ceiling that changes in height and material throughout with soft maple and reclaimed hemlock beams and kickers to help break up the floor plan. The 'Intimately Free People' area will have a special moment featuring a soft maple wood joist ceiling with white painted rough sawn slats that infill between joints. 7 fitting rooms will be nestled in the back with each stall showcasing custom patchwork Mori curtains and 'Black Smith Cottage' inspired large leaning mirrors. The space will feature a 3 point of sale cashwrap with a custom 'Black Smith Cottage' backwrap showcasing a built in crate installation of bright yarn filled cubbies. Interior finishes include re-purposed white washed beadboard, reclaimed hemlock shrouds, and mica plaster throughout.
"Saint Louis is full of creative individuals whose style speaks directly to the brand," says Beth Wehagen, Free People's Director of Retail. "I am confident that the Free People lifestyle will inspire and resonate well with the local customer."
At opening, the Saint Louis boutique will carry a strong range of dresses and slips in various silhouettes, prints and textures. Texture will continue to be a trend across all categories with an emphasis on "head to toe" styling as we head into the cooler months. Varied shapes including flares and skinnies will round out the bottoms category alongside a strong focus on sweater-dressing for an easy summer to fall transition. Indigo will have a moment with each class carrying a variation of the hue including tops, bottoms, jackets and accessories. The 'Intimately Free People' shop will feature an attractive mix of bras, slips, and undies in addition to a strong brami and cami assortment filtered throughout the store. The boutique will play home to a large assortment of accessories including bags, jewelry, ponchos, scarves, wide brimmed hats, and a dedicated 'FP Collection' shoe shop.
The new store will have a celebration on opening day, Friday July 24th, from 6-8pm. The first 50 customers to arrive will receive a tote bag giveaway, light refreshments will be served, and store stylists will be on hand to give in-store styling sessions. Guests should RSVP on Facebook: https://www.facebook.com/events/1666120860284057/
To connect with the local community right off the bat, the brand is launching the "Free People is Coming to Saint Louis Sweeps". From July 8th though July 17th, local Missouri customers can enter for a chance to win a $500 Free People Gift Card that must be picked up to redeem at the new Free People Saint Louis boutique. To enter, customers must visit: http://www.freepeople.com/stlouissweeps
Each Free People store offers personalized shopping experiences from a team of expert stylists. Customers can schedule a one-on-one appointment with their favorite stylist, as well as interact and gain inspiration through the brand's online Style Community, FP Me. In addition to offering personal styling, Saint Louis customers can look forward to a variety of in-store events to be hosted at the Free People Saint Louis boutique throughout the year.
Free People Saint Louis will be located at 1436 St. Louis Galleria, St. Louis, MO 63117. Store hours will run Monday-Saturday 10am-9pm, and Sunday 11am-6pm. Fans should follow along on Instagram to stay up to date on all the latest arrivals, events, and other happenings: https://instagram.com/freepeoplesaintlouis/
For more information, images, to request an interview, or to discuss a TV opportunity, please call Sarah Santos at 215-454-7224 or email ssantos(at)freepeople.com.
# # #
About Free People
Free People is a specialty clothing brand featuring the latest trends and vintage collections for women who live free through fashion, art, music, and travel. The eclectic look consists of quality apparel, shoes, and accessories that invoke attributes of femininity, spirit, and creativity with its design. Free People is distributed globally via direct channels including the Free People Global site, the Free People UK site, and the Free People China site as well as specialty boutiques, top department stores, and the brand's free standing retail locations in the U.S. and Canada.
About Saint Louis Galleria
Saint Louis Galleria is owned and managed by General Growth Properties, Inc., an S&P 500 company focused exclusively on owning, managing, leasing, and redeveloping high quality retail properties throughout the United States. GGP is headquartered in Chicago, Illinois, and publicly traded on the NYSE under the symbol GGP.