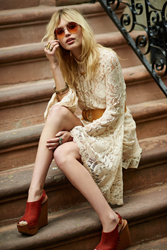 I look forward to bringing the Free People brand to Arcadia's premier shopping destination, giving local customers the opportunity to experience the Free People lifestyle in fresh new ways.
Philadelphia, PA (PRWEB) June 23, 2015
Specialty fashion brand, Free People, will open its 108th boutique across the United States and Canada on July 10th, 2015. Opening at Arcadia's Westfield Santa Anita Mall, the new store will be Free People's largest boutique in the Los Angeles area. Boasting 4,712 gross square feet, Free People's brand will bring an exciting mix of its coveted eclectic apparel to the shopping destination, alongside a special 'Intimately Free People' area.
California has proven to be a healthy and growing market for Free People as it continues to expand its presence in the state. Currently, the brand operates 21 boutiques in California with 12 in the immediate Los Angeles County. As local fans continue to increase their demand for the brand's coveted styles, the retailer has gone forward to open its doors at Arcadia's Westfield Santa Anita Mall, the premier shopping destination in the San Gabriel Valley.
"Free People Arcadia will feature a wide-ranging product assortment with expanded offerings in apparel, 'FP Collection' shoes, and 'Intimately Free People'" says Beth Wehagen, Free People's Director of Retail. "I look forward to bringing the Free People brand to Arcadia's premier shopping destination, giving local customers the opportunity to experience the Free People lifestyle in fresh new ways."
At opening, the Arcadia boutique will carry a strong range of edgy dresses and slips in various silhouettes, prints, and textures. A strong denim assortment of trendy flares, skinnies, and cutoffs will round out the bottoms category alongside peasant inspired tops, novelty knits, and "wear now" cotton sweaters and jackets for easy fall layering. Additionally, the assortment will feature a variety of clean and simple silhouettes with a strong focus on white hues alongside pops of indigo. The 'Intimately Free People' shop will highlight an attractive mix of bras, slips, and undies in addition to a strong brami and cami assortment filtered through the store. Additionally, lifestyle elements from the brand's assortment of unique home offerings will me merchandised throughout the intimates area. The boutique will also house a wide range of accessories including bags, jewelry, ponchos, scarves, wide brimmed hats, and sunglasses.
Free People Arcadia will be designed in the brand's 'Boho Bungalow' concept, representing the globe traveling girl, and the collections that she curates and displays in her space. The experience starts at the entry with large double hand-carved teak doors surrounded by a custom steel storefront featuring decorative metal grilles and historical brick pavers. Inside the space, customers are greeted by rough wide-planked reclaimed wood floors, mica plaster walls, and natural carved mango shrouds beneath a 12' ceiling. Located towards the rear of the store where the ceiling dips to 10', the Intimately Free People section will have a special moment with soft maple beams and columns at the entry and a painted white wood slat ceiling. 7 fitting rooms will be outfitted with unique lanterns, hand carved mirrors, and enclosed with bohemian inspired coin curtains. A custom backwrap of yarn filled cubbies will serve as the perfect backdrop to 3 point of sale stations.
The boutique will have a celebration on opening day, Friday July 10th, from 6-8pm. The first 50 customers to arrive will receive a tote bag giveaway. Light refreshments by Sophie Jaffe of Philosophie will be served and store stylists will be on hand to give in-store styling sessions. Guests should RSVP on Facebook: https://www.facebook.com/events/394355447415366/
Each Free People store offers personalized shopping experiences from a team of expert stylists. Customers can schedule a one-on-one appointment with their favorite stylist, as well as interact and gain inspiration through the brand's online Style Community, FP Me. In addition to offering personal styling, Arcadia customers can look forward to a variety of in-store events to be hosted at the Free People Arcadia boutique throughout the year.
Free People Arcadia will be located at 400 South Baldwin Avenue, #A-13 Santa Anita Mall, Arcadia, CA 91007. Store hours will run Monday-Saturday 10am-9pm, and Sunday 11am-7pm. Fans should follow along on Instagram to stay up to date on all the latest arrivals, events, and other happenings: https://instagram.com/freepeoplearcadia
For more information, images, to request an interview, or to discuss a TV opportunity, please call Sarah Santos at 215-454-7224 or email ssantos(at)freepeople(dot)com.
# # #
About Free People
Free People is a specialty clothing brand featuring the latest trends and vintage collections for women who live free through fashion, art, music, and travel. The eclectic look consists of quality apparel, shoes, and accessories that invoke attributes of femininity, spirit, and creativity with its design. Free People is distributed globally via direct channels including the Free People Global site, the Free People UK site, and the Free People China site as well as specialty boutiques, top department stores, and the brand's free standing retail locations in the U.S. and Canada.
Westfield Santa Anita Mall
"Westfield Santa Anita, anchored by Nordstrom, Macy's, AMC Theatres, and JCPenney, offers a dynamic merchandising mix with such favorites as Forever 21, Sephora, Michael Kors, Sport Chalet and Abercrombie & Fitch. The property's delectable dining options include The Cheesecake Factory, California Pizza Kitchen, Wood Ranch BBQ, Red Robin, Hai Di Lao Hot Pot and Benihana. The Promenade at Westfield Santa Anita features 115,000 square feet of new retail space in an elegant outdoor environment. Some of the popular brands available within this scenic shopping destination include Coach, Chico's, Talbot's, and abercrombie kids. Caffe Concerto, Meizhou Dongpo and Wing Hop Fung are also slated to open in 2015. Westfield Santa Anita also recently underwent a $20 million remodel that included various interior aesthetic upgrades, a sophisticated new Center Court, a completely transformed JCPenney entrance and improved restroom facilities, among other highlights."