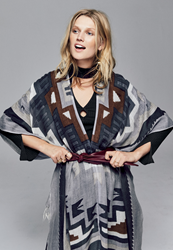 We have wanted to offer our Dallas customer more of the Free People brand for many years now, and we are so happy to be able to make this a reality in a gorgeous new space.
Philadelphia, PA (PRWEB) October 28, 2015
Lifestyle brand, Free People is finding a new home at Dallas, Texas' NorthPark Center. Boasting 6,555 gross square-feet, the new space will open its doors on November 6th, 2015, just in time for the holiday season. Apart from additional square footage, which will allow the brand to add lifestyle categories previously only available online, customers can look forward to more fitting rooms, a larger updated cashwrap, and an increased amount of merchandise. New finishes, décor, and fixtures throughout match the brand's current look and feel.
"We are excited to be expanding our location at Dallas' NorthPark Center, moving from our current 1,800 square-foot space into a large format Free People boutique," says Beth Wehagen, Free People's Director of Retail. "This location will not only offer expanded offerings in apparel, accessories, and intimates, but the increased retail space has allowed us to add a 'Party Dress Shop'! We have wanted to offer our Dallas customer more of the Free People brand for many years now, and we are so happy to be able to make this a reality in a gorgeous new space."
The new location will be designed in the brand's 'City Boho' concept, inspired by the globe traveling girl and the collections that she curates and displays in her space. A steel and glass storefront system will showcase a decorative Bhutti print frosted film in the transom, as well as two entrances into the store, one on the west façade and one on the north, highlighting steel double entry doors and new brass signage. Inside the space, the tone is warm and inviting with pockets of natural light through the use of skylights located in the main sales floor and fitting room common area, giving customers a reason to look up. 8 fitting rooms have been installed, illuminated by Del Amo lanterns and enclosed with decorative coin curtains. Along the ceiling, maple and oak joists help delineate the multiple shopping areas inside the space. Customers will be able to check out through the 4 POS cashwraps, featuring floating copper pendants overhead and a custom backdrop installation of yarn filled cubbies. Interior finishes include wide plank reclaimed wood floors, mica plaster and suede wash walls, white washed wood slats with hand carved planks, black smith cottage mirror frames with a brass finish, and natural carved shrouds.
At opening, Free People Dallas will be stocked with an assortment of holiday styles featuring unique embroidery, lively prints, feminine lace, and sultry velvet with touches of sparkle. Varied dress silhouettes, including body-con staples, shapeless wears, and shift styles, will be merchandised throughout the store and highlighted in the new 'Party Dress Shop'. For those looking for alternative holiday fashions, the boutique will also carry a selection of menswear inspired outfitting, highlighting flared bottoms paired back with tuxedo inspired button-down wovens and knits. With winter right around the corner, Free People Dallas will carry the brand's latest assortment of jackets, featuring velvet, faux fur, vegan leather, and military inspired pieces alongside must-have hand knit sweaters, easy knit tops for layering, cozy bottoms, and chucky scarves. An 'Indigo Shop' will provide customers with head to toe indigo outfitting options through denim, chambray, and blue washes across all classes. A strong bottoms assortment of skinnies, boyfriends, skirts, and flares in different textures, including true blue denim, corduroy, and suede will also be presented inside the space. A dedicated 'FP Collection' shoe shop will highlight a desirable selection of boots, including tall, ankle, and heeled styles, as well as flats, heels, and wedges. The location will also house the brand's popular 'Intimately Free People' line of bras, undies, slips, seamless layering pieces, and loungewear. In accessories, skinny scarves, assorted hats, leather and buckle belts, festive sparkle as well as utilitarian leather handbags, and a varied selection of fun jewelry pieces round out the assortment. A curated selection of the brand's 'Holiday Gift Guide' product, including holiday ornaments, scented candles, unique sparklers, decorative garlands, and savory candies will give the boutique a festive vibe.
The store will have a re-opening celebration on Friday, November 6th from 6-8pm featuring make-up tutorials, exciting giveaways, and light refreshments. Guests should RSVP on Facebook: https://www.facebook.com/events/1659411090971937/
Each Free People store offers personalized shopping experiences from a team of expert stylists. Free People Dallas customers can schedule a one-on-one appointment with their favorite stylist, as well as interact and gain inspiration through the brand's online Style Community, FP Me.
Free People Dallas will be located at NorthPark Center at 8687 North Central Expy #2420 NorthPark Center Dallas, Texas 75225. Store hours will run Monday-Saturday 10am-9pm, and Sunday 12pm-6pm. Fans should follow the store on Instagram to stay up-to-date on all the latest arrivals, events, and other happenings:
https://instagram.com/freepeopledallasftworth
For more information, images, to request an interview, or to discuss a TV opportunity, please call Sarah Santos at 215-454-7224 or email ssantos(at)freepeople(dot)com.
###
About Free People
Free People is a specialty clothing brand featuring the latest trends and vintage collections for women who live free through fashion, art, music, and travel. The eclectic look consists of quality apparel, shoes, and accessories that invoke attributes of femininity, spirit, and creativity with its design. Free People is distributed globally via direct channels including the Free People Global site, the Free People UK site, and the Free People China site as well as specialty boutiques, top department stores, and the brand's free standing retail locations in the U.S. and Canada.
About NorthPark Center
NorthPark Center is Dallas' finest shopping experience with more than 230 stores and restaurants, including more than 70 market exclusives. Anchored by Neiman Marcus, Nordstrom, Macy's and Dillard's, NorthPark Center offers an unparalleled collection of luxury boutiques set amid internationally acclaimed 20th and 21st century art, award-winning architecture and extraordinary landscaping, as well as a 1.4-acre garden, CenterPark, and a state-of-the-art movie theatre, AMC NorthPark 15. NorthPark Center is expected to surpass $1.3 billion in 2015 and is among the top five performing shopping centers in the United States. NorthPark Center is North Texas' number one tourist destination and is conveniently located five miles from downtown Dallas and 35 miles from Fort Worth.