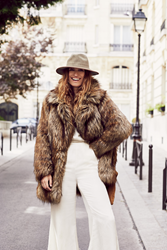 We are so excited to be opening our largest Free People store outside of our NYC locations in Denver's Cherry Creek Shopping Center
Philadelphia, PA (PRWEB) October 30, 2015
Lifestyle brand,Free People, is finding a new home at Denver, Colorado's premier shopping destination, Cherry Creek Shopping Center. Re-opening on November 6th, 2015 just in time for the holiday season, the new larger location will boasts 7,500 gross square-feet. Apart from additional square footage, customers can look forward to a new fitting room stall design concept, a larger updated cashwrap, and an increased amount of merchandise while introducing the brand's activewear line 'FP Movement'. New finishes, décor, and fixtures throughout match the brand's current look and feel.
"We are so excited to be opening our largest Free People store outside of our NYC locations in Denver's Cherry Creek Shopping Center," says Beth Wehagen, Free People's Director of Retail. "The location will go from our current space of 1,200 square feet to a large concept Free People boutique and will offer our customers expanded offerings in apparel, accessories, and intimates. In addition, this large format store will also house our 'FP Movement' line of activewear essentials, a collection that is currently only available at our Rockefeller Center boutique and on FreePeople.com. We feel confident this product will really resonate with the Free People Denver customer and her active lifestyle. Expanding this store has been something we have wanted to do for several years and we are thrilled we are at the place where it's actually happening!"
The new space will be designed in the brand's 'Black Smith's Cottage' concept. Highlighting the more rugged side of the Free People girl, the space is designed to feel like her personal workshop by featuring a mix of rugged elements and feminine details throughout. Customers will be welcomed through a long angled custom steel and glass storefront with steel double entry doors with custom hardware. Natural brick pavers at the storefront alcove and soldier course base, two large cast Free People backlit signs featuring a bronze finish, and wide white oak slats arranged in a horizontal pattern complete the front façade of the new boutique. An angled shoe wall will greet customers upon arrival, as it runs parallel with the angle of the storefront entry. Debuting a new fitting room stall design concept, 10 fitting rooms will be nestled towards the rear of the store featuring exposed dark hemlock studs and joists and special coin curtains. Customers will be able to checkout through the 5 POS cashwrap, featuring copper pendants and special ceiling features overhead, along with a custom backwrap installation of yarn filled cubbies. High ceilings throughout highlight white washed white oak beams and studs. Additional finishes include wide plank reclaimed wood floors, reclaimed white washed beadboard, mica plaster and suede wash walls, and dark hemlock and soft maple cladding throughout the sales floor.
At opening, Free People Denver will be stocked with an assortment of holiday styles featuring unique embroidery, lively prints, feminine lace, and sultry velvet with touches of sparkle. Varied dress silhouettes, including bodycon staples, shapeless wears, and shift styles, will be merchandised throughout the store. For those looking for alternative holiday fashions, the boutique will also carry a selection of menswear inspired outfitting, highlighting flared bottoms paired back with tuxedo inspired button-down wovens and knits. With winter right around the corner, Free People Denver will carry the brand's latest assortment of jackets, featuring velvet, faux fur, vegan leather, and military inspired pieces alongside must-have hand knit sweaters, easy knit tops for layering, cozy bottoms, and chucky scarves. An 'Indigo Shop' will provide customers with head to toe indigo outfitting options through denim, chambray, and blue washes across all classes. A strong bottoms assortment of skinnies, boyfriends, skirts, and flares in different textures, including true blue denim, corduroy, and suede will also be presented inside the space. A dedicated 'FP Collection' shoe wall will highlight a desirable selection of boots, including tall, ankle, and heeled styles, as well as flats, heels, and wedges. The location will also house the brand's popular 'Intimately Free People' line of bras, undies, slips, seamless layering pieces, and loungewear. As the second retail location to carry the brand's collection of activewear essentials, an 'FP Movement Shop' will play home to an assortment of leggings, tops, sports bras, and third piece layering options for yogis, dancers, runners, and all around fitness enthusiasts. In accessories, skinny scarves, assorted hats, leather and buckle belts, festive sparkle as well as utilitarian leather handbags, and a varied selection of fun jewelry pieces round out the assortment. A curated selection of the brand's 'Holiday Gift Guide' product, including holiday ornaments, scented candles, unique sparklers, decorative garlands, and savory candies will give the boutique a festive vibe.
The store will have a re-opening celebration on Friday, November 6th from 6-8pm. Featuring AcroYoga performances by Jen Cameron and Austin Goodman of Denver AcroYoga, as well music by Ancient Elk, the first 50 customers to arrive will receive totebag giveaways and light refreshments will be served. Customers who make an 'FP Movement' purchase on re-opening day will automatically receive a free Weekly Pass to Corepower Yoga. Guests should RSVP on Facebook:
https://www.facebook.com/events/373600396173840/
Each Free People store offers personalized shopping experiences from a team of expert stylists. Free People Denver customers can schedule a one-on-one appointment with their favorite stylist, as well as interact and gain inspiration through the brand's online Style Community, FP Me.
Free People Denver will be located at Cherry Creek Shopping Center at 3000 E. 1st Avenue #P-102 Cherry Creek Shopping Center Denver, CO 80206. Store hours will run Monday through Saturday 10am-9pm and Sundays 11am-6pm. Fans should follow the store on Instagram to stay up-to-date on all the latest arrivals, events, and other happenings:
[https://instagram.com/freepeopledenver/
For more information, images, to request an interview, or to discuss a TV opportunity, please call Sarah Santos at 215-454-7224 or email ssantos(at)freepeople.com.
###
About Free People
Free People is a specialty clothing brand featuring the latest trends and vintage collections for women who live free through fashion, art, music, and travel. The eclectic look consists of quality apparel, shoes, and accessories that invoke attributes of femininity, spirit, and creativity with its design. Free People is distributed globally via direct channels including the Free People Global site, the Free People UK site, and the Free People China site as well as specialty boutiques, top department stores, and the brand's free standing retail locations in the U.S. and Canada.
About Sherry Cheek Shopping Center
Located in the heart of Denver, Cherry Creek Shopping Center offers the Rocky Mountain region's most exciting shopping environment including Neiman Marcus, Macy's, Nordstrom, Tiffany & Co., Burberry, Louis Vuitton, Ralph Lauren, Elway's Restaurant, an eight-screen movie theater and more than 160 other fine specialty stores and services. Shopping hours are 10 a.m. to 9 p.m. Monday through Saturday, 11 a.m. to 6 p.m. Sunday. Preview the stores, the styles and the sales at http://www.shopcherrycreek.com and http://www.facebook.com/cherrycreekshopping center.