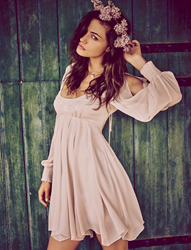 This store will be our largest on the east coast of Florida, offering an expanded assortment of ready to wear, 'Intimately Free People', and an amazing selection of shoes!
Philadelphia, PA (PRWEB) August 21, 2015
Lifestyle brand, 'Free People', will bring its eclectic apparel to The Galleria, Fort Lauderdale's most fashionable address, on August 28th 2015. Residing steps from the city's world famous beach, Free People Fort Lauderdale will be the brand's sixth boutique in Florida and 111th across the United States and Canada. The store's indoor mall location will boast 4,993 square feet of space holding a wide assortment of merchandise appealing to locals and tourists alike.
Fort Lauderdale, a popular hub in Florida's southern metropolitan area, proves to be a great fit for the brand's next store location. Florida residents have fostered a great relationship with the brand as shown by Free People's five other thriving boutiques, positioned throughout the state. In response to positive sentiment from customers, the retailer has gone forward to open its doors at The Galleria, the largest and most upscale regional mall in Broward County.
"We are excited to open our Fort Lauderdale location," says Beth Wehagen, Free People's Director of Retail. "This store will be our largest on the east coast of Florida, offering an expanded assortment of ready to wear, 'Intimately Free People', and an amazing selection of shoes!"
At opening, the Free People Fort Lauderdale boutique will carry pieces essential to high summer that will cater to both locals and visitors. The space will include a dedicated White Shop to aid in creating that classic summer look. An Indigo Shop will provide customers with head to toe indigo outfitting options through denim, chambray, and blue washes across all classes. Shoppers can look forward to a strong jeans assortment, including skinnies, flares, boyfriends, and one-pieces. To add pops of color, fun floral and ethnic print patterns will be mixed through the assortment of woven and knit tops, dresses, slips, and shorts with light sweaters and jackets merchandised throughout the space. The store will house the brand's popular 'Intimately Free People' line of line of bras, undies, slips, seamless layering pieces, and loungewear and will also play home to an assortment of accessories, including bags, jewelry, and 'FP Collection' shoes.
The new boutique will be designed in the brand's 'Boho Bungalow' concept, representing the globe traveling girl, and the collections that she curates and displays in her space. Customers will be welcomed by an angled storefront with custom, hand-carved, double-entry teak doors featuring historical brick pavers at the alcove. Decorative laser cut grills will be surrounded by glitter mica plaster, drawing attention to a backlit, cast iron "Free People" sign. Soft maple joists with painted white gyp infill will delineate the boutique's main sales floor area, while soft maple joists with rough sawn white washed plank infills will define the fitting rooms, discount area, and 'Intimately Free People' shop, which will feature a special entrance highlighted by glitter mica plaster walls with a unique mirror tile finish. Wide-planked reclaimed wood flooring lives throughout the store, transitioning to more delicate planks within the boutique's seven fitting rooms with starburst lantern clusters helping illuminate the fitting room's common area. Customers will be able to check-out through a custom built in back wrap of yarn-filled cubbies, including three points of sales. Brightly patched quilts, cast iron features, and beautiful inlayed table tops will further lend to the 'Boho Bungalow' aesthetic.
To connect with the local community, the brand is launching the "Free People Fort Lauderdale Sweeps". Through August 21st, local Florida customers can enter for a chance to win a $500 Free People Gift Card that must be picked up to redeem at the new Free People Fort Lauderdale boutique. To enter, customers must visit: http://www.freepeople.com/fort-lauderdale-sweeps/
Each Free People store offers personalized shopping experiences from a team of expert stylists. Customers can schedule a one-on-one appointment with their favorite stylist, as well as interact and gain inspiration through the brand's online Style Community, FP Me. In addition to offering personal styling, Fort Lauderdale fans can look forward to a variety of in-store events to be hosted at the Free People Fort Lauderdale boutique throughout the year.
The new store will have a celebration on opening day, Friday, August 28st, from 6-8pm. The first 50 customers to arrive will receive a tote bag giveaway, light refreshments will be served, and store stylists will be on hand to give in-store styling sessions. Guests should RSVP on Facebook: https://www.facebook.com/events/384528958404504/
Free People Fort Lauderdale will be located at 2348 E. Sunrise Blvd. #2193 Galleria, Ft. Lauderdale, FL 33304-2507. The Galleria is leased and managed by global commercial real estate firm, JLL. Vice President Kim Salvatori of JLL represented the landlord in the lease negotiations. Store hours will run Monday-Saturday 10am-9pm, and Sunday 12pm-6pm. Fans should follow the store on Instagram to stay up-to-date on all the latest arrivals, events, and other happenings: https://instagram.com/freepeopleftlauderdale/
For more information, images, to request an interview, or to discuss a TV opportunity, please call Sarah Santos at 215-454-7224 or email ssantos(at)freepeople(dot)com
# # #
About Free People
Free People is a specialty clothing brand featuring the latest trends and vintage collections for women who live free through fashion, art, music, and travel. The eclectic look consists of quality apparel, shoes, and accessories that invoke attributes of femininity, spirit, and creativity with its design. Free People is distributed globally via direct channels including the Free People Global site, the Free People UK site, and the Free People China site as well as specialty boutiques, top department stores, and the brand's free standing retail locations in the U.S. and Canada.
About The Galleria at Fort Lauderdale
The Galleria at Fort Lauderdale, recognized as one of South Florida's premier shopping destinations for its sophisticated level of merchandising and ambiance, is the largest and most upscale regional mall in Broward County. Neiman Marcus, Macy's and Dillard's anchor the popular center, which also features 100 specialty stores including American Eagle Outfitters, Apple, Ann Taylor, Banana Republic, Coach, Cole Haan, J. Crew, Michael Kors, Pandora and Pottery Barn. It is also home to Elizabeth Arden Red Door Spa and a fine roster of dining establishments such as Seasons 52, The Capital Grille, Truluck's, P.F. Chang's and Blue Martini. Just steps away from Fort Lauderdale's world famous beach, it is minutes from the airport, port, downtown, hotels and the Greater Fort Lauderdale Convention Center with easy access from Sunrise Boulevard, U.S. Highway 1 (Federal Highway), Interstate 95, Interstate 595, and U.S. Highway A1A (Fort Lauderdale Beach Boulevard). Located at 2414 East Sunrise Blvd., it is open from 10 a.m. to 9 p.m., Mon. through Sat. and 12 p.m. to 6 p.m. on Sun. Restaurants enjoy later hours. More information is available by calling (954) 564-1036 or at http://www.galleriamall-fl.com.
About JLL
JLL (NYSE: JLL) is a professional services and investment management firm offering specialized real estate services to clients seeking increased value by owning, occupying and investing in real estate. A Fortune 500 company with annual fee revenue of $4.7 billion and gross revenue of $5.4 billion, JLL has more than 230 corporate offices, operates in 80 countries and has a global workforce of approximately 58,000. On behalf of its clients, the firm provides management and real estate outsourcing services for a property portfolio of 3.4 billion square feet, or 316 million square meters, and completed $118 billion in sales, acquisitions and finance transactions in 2014. Its investment management business, LaSalle Investment Management, has $55.3 billion of real estate assets under management. JLL is the brand name, and a registered trademark, of Jones Lang LaSalle Incorporated. For further information, visit http://www.jll.com.