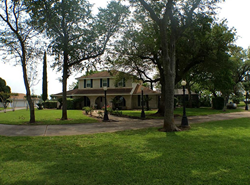 Freeport, TX (PRWEB) September 16, 2015
Green Bay-based online real estate auction firm Micoley.com is thrilled to announce it is including one of the premier residential properties in Freeport, Texas in its upcoming December 2 auction. The property, located at 4302 FM 523 Freeport, TX (zip: 77541-9464) is known by those in the area for its attractive presentation -- past the main entrance gate, old fashioned light poles lead up to the 3,514 square foot house.
On the inside, there are 4 large bedrooms; 3 full baths and 2 half baths; a living room with a fireplace and custom-built bookcases; a sizable kitchen; a breakfast room; an oversized pantry/laundry room; a large office with a fireplace; and an exercise & billiards room with a wet bar, a microwave, and a refrigerator. The home comes with a closed circuit security system and a full-service propane generator that provides power to not only the home but to the shop, outbuildings, and barns as well.
Attached to the house is a screened-in swimming pool with an entertaining area; there is also an illuminated walkway to the lake and pier house, which sports enough room for over 40 people and comes equipped with its own mini kitchen, half bath, and bar.
The property is ideal for entertaining. Guests can swim, fish, take the boat out, and use the riding trails to occupy themselves on this 61-acre retreat with its own 30-acre naturally stocked private lake. Additional guests can camp on two RV sites that have access to water and electric service. In addition, the area has oil and mineral (plus ingress and egress) rights associated with it, which can be negotiated.
The city of Freeport is also gaining traction naturally as an attractive area, and not just because of its proximity to the Gulf (15 minutes) and major Texan cultural hubs Galveston (45 miles) and Houston (62 miles). Businesses are relocating to the area rapidly; over $12 billion of new capital investment is projected in the next seven years.
Micoley.com founder and CEO Wade T. Micoley describes the property as "as incredible dream," further elaborating that "with the amount of features this property has and its location in a fast-growing town, close to the Gulf of Mexico, any price this property sells for will be a real steal."
The property is listed at $890,000 with an opening bid of $645,000 if no offer is received before the December 2 auction.
The highly motivated sellers of this property have indicated that they plan to entertain early bids and offers. Buyers are most likely already researching this property, and coming to decisions about whether to make a purchase, so potential buyers are advised to act fast. This property is currently listed with Randall Newman of Intero Real Estate Services; Pearland, TX.
Interested parties should visit micoley.com to find more photos and details about the property, or visit in person and perform an inspection on site, which is highly recommended. (866) 371-3619 is Micoley.com's information line. Additionally, Micoley.com features a live chat service through which questions can be answered.
About Micoley.com:
Green Bay, Wisconsin-based Micoley.com is a real estate marketing firm specializing in project focused auctions and sales events of bank-owned and traditionally listed Real Estate throughout the United States. The Micoley.com approach to Real Estate marketing tailors each auction plan to the client's individual needs. The site is constantly being updated for the benefit of buyers, as large-scale auction events are held quarterly, and new properties are added daily.