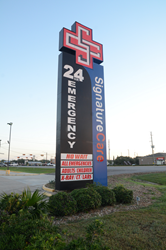 Houston TX (PRWEB) September 25, 2017
SignatureCare Emergency Centers are freestanding emergency rooms with multiple locations throughout Texas, Including, Houston, Austin and College Station. With recent scrutiny over freestanding emergency rooms and billing issues, SignatureCare worked to ensure they not only provide excellent patient care, but also worked with patients and billing issues. Medical billing is a complex practice and SignatureCare Emergency Center employs a billing company, RoundTable Medical Consultants who are experienced in medical billing practices.
SignatureCare's freestanding emergency rooms were one of the few that remained open during the recent Hurricane Harvey. Having a freestanding emergency room, located in communities and some suburban areas proved to be a commodity during the recent hurricane. Many of the hospitals were forced to close and evacuate during the massive flooding which left people with emergencies little to no choice for help. "Being able to remain open was not as easy task, given the flooding, staff limitations, and accessibility to get to our facility for those that needed an ER", said Aaron Braun, SignatureCare's Chief Medical Officer. "We were able to remain open and treat patients because of the wonderful team we have and we are very proud of them." Braun continued to say.
SignatureCare as well as many other freestanding ERs have been under negative public attack recently when it comes to medical billing. Having these Freestanding emergency rooms have proven to be a necessity for local communities, especially during the Hurricane Harvey catastrophe. Freestanding emergency room typically are not affiliated with a hospital and therefore cannot accept Medicaid or Medicare. There is still a long way to go for them to be able to accept these forms of insurance.
"Our patients are billed the same way they would be billed if they visited a hospital emergency room" Said Braun. We do not charge any more than a traditional hospital. The only difference is that our patients do not have the long waits of the hospital. And we can perform just about all the same tests as the hospitals do." Braun continued to say.
Controversy will continue for Freestanding emergency rooms VS hospitals and the billing aspects, but one import fact to remember is that Freestanding emergency rooms are more conveniently located and have a much shorter wait.
About SignatureCare Emergency Center
Licensed by the Texas Department of Health Services, SignatureCare Emergency Centers are freestanding emergency rooms that are always open. SignatureCare has multiple locations in the Houston, Austin and College Station areas with each offering state-of-the art medical imaging, and X-rays. All our emergency rooms are fully staffed with medical professionals, including board-certified physicians, licensed nurses, radiology technicians, and emergency-trained ancillary staff. All SignatureCare Emergency Centers are open 24/7- 365 days a year.
For more information on SignatureCare Emergency Center and its locations visit https://ercare24.com.