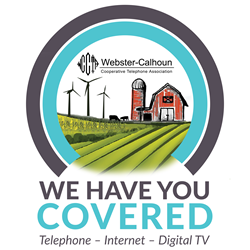 "Enjoying a family-friendly movie during the Thanksgiving holiday is a tradition in our home. WCCTA is excited to be able to offer the additional two new channels ... members will be able to view them free over the holiday," states Marcie Boerner
Gowrie, Iowa (PRWEB) November 21, 2016
Thanksgiving is for families and Webster-Calhoun Cooperative Telephone Association (WCCTA) is excited to offer new STARZ premium package services to their members to view free starting Wednesday, November 23rd and throughout the long Thanksgiving weekend.
Channels that have been added include the channel 410 STARZ Kids & Family as well as the 409 STARZ ENCORE Family. The package already includes a variety of movie choices including action, classics, suspense and westerns.
The Starz Encore package has the best movie library on TV, On Demand and Online. The selection includes today's hits, classic movies and past seasons of STARZ Original Series.
"Enjoying a family-friendly movie during the Thanksgiving holiday is a tradition in our home. WCCTA is excited to be able to offer the additional two new channels as well as have our members be able to view them free over the holiday," states Marcie Boerner, Office Manager at WCCTA. "The selection that is offered guarantees our members will have plenty of opportunities to watch a favorite or new movie."
WCCTA members that carry the WCDTV service will be able to see these service on channels 400 to 410 from November 23rd to November 27th. The package is available as an add on to the basic or extended WDCTV service for only $13.00 a month.
Webster-Calhoun Cooperative Telephone Association is located at 1106 Beek Street, Gowrie, IA 50543. It has a Fiber driven network and provides landline telephone, Internet and digital television service to the Iowa communities of Gowrie, Pilot Mound, Vincent, Thor, Churdan, Knierim, Somers, Barnum, Duncombe, Farnhamville, Badger, Clare, Moorland, Boxholm, Lanyon and http://www.wccta.net. #thisisfortdodge