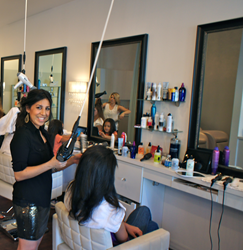 The Freestylist® is key to delivering to clients our signature blow out bar experience. - Melodi Harmon, Owner, Primp and Blow
Scottsdale, AZ (PRWEB) April 21, 2015
Freestyle Systems is pleased to announce that its patented weightless hanging blow dryer system for hair salons will be included in the Primp and Blow franchise package. As an innovator in the hair salon industry, Primp and Blow is a successful chain of blow dry bars that offers a blow dry bar franchise opportunity to qualified individuals who want to use their experience and business skills to operate their own business. The Primp and Blow franchise concept is based on providing clients with a signature blow dry bar experience in a comfortable boutique-style setting.
The Freestylist® by Freestyle Systems is an innovative piece of salon equipment. This system is based on a patented mechanism that not only suspends the blow dryer at the perfect height, but also makes the blow dryer feel weightless in the hands of the hair stylist. Almost any brand of commercial blow dryer can be attached to the Freestylist®.
Melodi Harmon, owner of Primp and Blow, notes: "The Freestylist is key to delivering to clients our signature blow out bar experience. The Freestylist is just good business. The cutting edge look of the hanging blow dryers and the way they facilitate a neat and tidy atmosphere in our facilities is an important factor in attracting and retaining clients. And the fact that the Freestylist feels 'weightless' helps reduce the risk of carpal tunnel syndrome, as well as back, wrist and elbow pain for the hairstylists and contributes to a happy, healthy staff. This, in turn, reduces employee turnover, which can be a huge cost savings."
Freestyle Systems is pleased to collaborate with Primp and Blow as part of their expansion initiative.
About Freestyle Systems
Freestyle Systems has been manufacturing the Freestylist® hanging weightless blow dryer system at its facility in Shrewsbury, MA and distributes the product to hair salons and cosmetology schools nationwide and to select foreign countries.
To stay informed about hanging weightless blow dryers, sign up for our e-newsletter here.
For design and pricing information please call: 508-845-4911