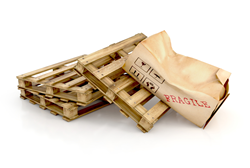 In the business of freight management since 1997, at Cerasis we have processed and managed more than 10,000 freight claims on behalf of our shipper customers.
Eagan, MN (PRWEB) January 27, 2015
Cerasis, a third party logistics company offering transportation technology through their transportation management system, the Cerasis Rater, and provider of managed transportation services to include carrier relations and freight claims management, announces the release of a new white paper entitled, "The Complete Guide for Shippers to Process & Master Freight Claims." Those interested in obtaining a copy of the white paper may fill out the form on the Cerasis website.
The white paper from Cerasis is a valuable resource to North American shippers who ship on over the road modes such as Less-than-Truckload (LTL), small package, or full truckload and experience freight claims.
Shippers can download "The Complete Guide for Shippers to Process & Master Freight Claims" by visiting the Cerasis website here.
"In the business of freight and transportation management since 1997, at Cerasis we have processed and managed more than 10,000 freight claims on behalf of our shipper customers," said Cerasis Freight Claims Manager, Judy Strain. "We take pride in making the arduous, legal intensive, and often daunting task of freight claims off of the shoulders of our shippers so they may focus on more revenue producing activities, such as their core business. In 2014, after processing more than 800 freight claims, we truly enjoy advocating and educating our customers and carrier partners in dealing with freight claims."
In this Cerasis White Paper, which you can download here, shippers will learn the following:

Freight Claims Introduction: The Laws and What are The 4 Types of Freight Claims
Freight Insurance vs. Freight Liability: Knowing the Difference For Freight Claims
5 Tips to Mitigate Freight Damage and Freight Claims
The Importance of How to File a Freight Claim & 6 Main Steps of Successful Freight Claims
Decrease Time on These 7 Freight Claim Time Wasters
Best Practices to ensure You Realize the Fullest Amount Possible for your Freight Claim
8 Most Common Reasons Why You May Receive a Freight Claim Declination Letter
5 Freight Claim Answers That Every Claimant Should Know
How Expertise and Technology Ease the Burdens of Freight Claims
It's been said that the one area that most shippers are the least knowledgeable in is that of claims for freight loss and damage. However, this does not mean that an understanding of freight claims isn't vital to running an efficient transportation and logistics department.
Unrecovered freight claims have a direct impact on the bottom line of a company—and the tougher the economic times and thinner the margins the greater the impact. As depicted in the accompanying chart, if your company operates at a 5 percent profit margin, to recoup the net revenues that would be lost by failing to recover a $1,000 freight claim, it would have to generate $20,000 in sales!
Knowledge is vital for shippers because they're on their own unless they've outsourced to a knowledgeable 3PL, when it comes to claims. For carriers, whose core business is transportation, the processing of claims is an integral part of their business, and all but the smallest of carriers are quite knowledgeable and very competent when it comes to defending against claims. For most retailers, manufacturers and distributors, the transportation function is an unwanted headache—and claims represent a migraine.
However, just because something is difficult does not mean that it can be ignored. George Pezold, co-author with Bill of Freight Claims in Plain English, emphasizes that: "Knowledge of the basic legal distinctions and the applicable laws and regulations is critical in dealing with cargo claims."
Remember, when dealing with freight claims, there are many legal implications. A 3PL can handle freight claims management for you, as they are set up with the correct certifications and have expertise in not only resolving the complex world of freight claims but experience in carrier relations to get it done legally correct and quickly on your behalf.
Ultimately, whether or not a 3PL is handling freight claims for you, as a shipper, this white paper will arm you with the knowledge you need to file freight claims from beginning to end and a few best practices and tips to get the best possible experience and achieve your desired outcomes when managing and processing freight claims.
Cerasis freight claims management services are included simply by being a Cerasis customer. It is in Cerasis's, their shippers', and Cerasis carrier partners' best interests to fully investigate and resolve freight claims. Cerasis offers the following freight claims services:
Process all freight claims from beginning to end.
Work as a liaison on behalf of our customer, working with our carrier partners and providing transparent communication throughout the entire freight claims process.
Provide proactive education to shippers, consignees, and carriers to decrease future freight claims by empowering all parties with the knowledge of what a freight claim is, how to avoid future damage, and ensure freight claims are resolved.
Keep all parties compliant by following all policies and regulations of customers, carriers and industry standards.
Process checks and ensures all parties are paid in a timely manner when a claim is resolved.
Proactively follow up on claims status to resolve them within the 90-day freight claims window.
Educate all parties in the case of a denied claim.
Offer freight claims expertise, taking the burden and anxiety away from our customers when it comes to freight claims due to the thousands of processed claims and man hours put into proper freight claims management.
Remember to download "The Complete Guide for Shippers to Process & Master Freight Claims" to gain more knowledge, and thus more power and control, over the freight claims management aspect of a shippers' business.