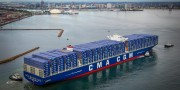 Worldwide Logistics Ltd. Attends CMA CGM Benjamin Franklin Inauguration
Long Beach, California (PRWEB) March 02, 2016
Worldwide Logistics Ltd. was thrilled with their recent invitation to attend the CMA CGM Benjamin Franklin Inauguration
"I was fortunate enough to have been invited to this historic event", claims Robbin Dewalt from Worldwide Logistics Ltd (http://worldwidelogisticsltd.com/inauguration-cma-cgm-benjamin-franklin/). During the ceremony, speakers consisted of the Chairman and CEO of CMA CGM Mr. Jacques R. Saade, Long Beach Mayor Dr. Robert Garcia and Port of Long Beach officials. The inauguration was performed by the sponsor/godmother of the CMA CGM Benjamin Franklin Mrs. Shelley McMillon, who is also the President and CEO of Walmart Stores, Inc. Sponsors are considered a permanent member of the ship's crew, and are meant to bring good luck to the ship. After the inauguration all were treated to vessel tours of this amazing ship. From the dock to the wheel house, all aspects of the ship were very impressive.
The CMA CGM Benjamin Franklin is the first vessel of its size to call a US Port including all of North America. It is equipped with the most up to date environmental technology that uses less fuel, emits less carbon dioxide, and complies with 2025 efficiency standards.
Despite being so efficient and environmentally friendly, the Benjamin Franklin boasts some impressive stats. It is longer than 4 football fields or 5.5 Airbus A380 aircraft, and is as high as a 20 story building, at 197' tall. It is 1306 feet long – Longer than the Aircraft carrier USS George H. W. Bush (332m/1090ft). The engine is as powerful as 900 Ford Focus cars, and is coupled with a propeller to provide 21-knots thrust, equivalent to that of 11 Boeing 747-400 engines. All of this allows the ship holds 18,000 TEU's or 109km of containers end to end, the distance between Santa Monica, CA and Santa Barbara, CA.
About Worldwide Logistics Ltd.
Worldwide Logistics Ltd. was formed with a single goal. That is to create a logistics company that could offer competitive and comprehensive solutions without compromising personal service. International & Domestic Freight Forwarding Services (http://worldwidelogisticsltd.com/) offered, include Ocean, Air, Truck & Rail service.
Phone: 1.201.556.0909
Email: sales(at)wwllmail(dot)com
Address: 25 E. Spring Valley Avenue, Suite 205, Maywood, NJ 07607
Contact Information
Lisa Spano
Worldwide Logistics ltd.
http://worldwidelogisticsltd.com/
(201) 556-0909