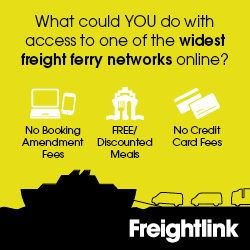 Freight ferry booking is now available in seven European Languages - because customers are at the heart of what we do.
Preston, Lancashire (PRWEB UK) 21 December 2015
In 2002, having taken redundancy, two senior managers from P&O Ferries took over Freightlink Solutions UK (FLUK), to develop a growing ferry ticket demand to support SME clients. "We really had to come out of the corporate world, to really understand how difficult it was for couriers, transport operators, and SME exporters to provide the level of service their customers were demanding daily", says Mark Stephens Director Freightlink.
Phil Simpson Co-Director adds, "10 years ago it was all about listening to the demands, and working very hard on the telephone".
Yet things move fast, and a decade later Freightlink developers digitalise the website, add Russian, Czech and Romanian websites to existing German, Polish and English versions, and include a dedicated Knowledge Centre.
Desktop, smart phone, and tablet ferry price comparison, and booking with Europe's largest ferry operators are now available.
Why should couriers and hauliers use Freightlink?
Freightlink are at the forefront of new and advanced solutions. The inclusions of dedicated freight ferry booking and knowledge centres, in six languages means Freightlink are a market leader for choice, pricing and customer service.
The new website, built around the latest Microsoft and Chrome web browser technologies, makes online payments faster and more secure.
Expansion: In the digital age, Europe is getting smaller, with freight forwarders, hauliers, and van operators expanding their own networks, working smarter and cutting costs. This expansion is not limited to professional hauliers, as new manufacturers develop entrepreneurialism skills and expand into the EU.
Freightlink has consistently developed its booking system since 2002. The new changes focussing on reverse engineering the system, with the customer experience at the centre of all developments. The new operating platforms enable staff to serve customers more efficiently, with greater flexibility. The redesigned online booking engine allows customers to execute simple one off bookings or set up complex multi-route, or -vehicle ferry bookings across Europe. "This delivers time, and cost savings, the Holy Grail that we strive to deliver for our clients," says Jason Mayor, Sales Director.
What's new? By understanding our clients better, Freightlink improved its customer journey, and built a system capable of delivering results. The new website reflects this customer journey – the customer front facing site is better integrated to a back-end system, allowing the customer service team to better support online and offline clients, making it immeasurably easier for simple or complex transactions.
Mark Stephen's concludes, "Then we had to consider the demands of a changing market. 10 years ago, a non-UK registered freight vehicle on the road was a minority but now is the reverse: foreign registered vehicles travelling from the UK to Europe represent more than 80% of the market.* We have to make sure we can satisfy these new demands at break neck speeds. In some ways we have changed the market". He continues, "5 years ago our requests came in via a phone call, we had minutes to react. Now the vast majority of bookings come in digitally as the driver is joining a port check-in process…we now have seconds".
Phil Simpson adds, "But it's not all about digital, we still have a dedicated team here to support clients, as there are so many variables changing in real time: long sea versus short sea, driver breaks, JIT demands, then there are cost considerations with fluctuating BAF & MARPOL charges. Add Dover into the mix with migrant issues, delays, and operation stack, it becomes apparent that talking to a voice over the phone makes the world of difference. If a client is delivering a consignment to a new customer, we need to make sure they have all the information they need to deliver a success story. Our new systems give our team the information to achieve this everyday".
*Department for Transport 2014
Website: freightlink.co.uk